April 23, 2011 -
National Football Post
Five potential first-round trades
One of the most unpredictable things that take place during draft weekend are all the frequent trades. However, here is a list of five potential teams looking to get out of their pick and who could end up being their partners.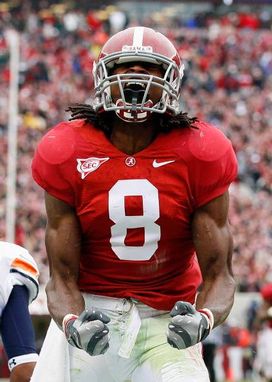 Jones could definitely create some interest.
Washington Redskins: Pick 10
The Redskins have picks in the first and second rounds, but after that don't pick again until the 5th. Therefore, moving back from ten and acquiring more picks in order to help fill their number of needs seems like a real possibility. Washington would greatly benefit from the possibility of a talent like WR Julio Jones or DT Nick Fairley still on the board at ten, making their pick that much more attractive for potential trade partner to deal up.
Potential trade partner: St. Louis Rams for WR Julio Jones.
Miami Dolphins: Pick 15
So much has been made about the likelihood of the Dolphins taking RB Mark Ingram with the 15th overall pick. However, when looking at the Fins picks I think they would love to add a talented RB like Ingram, but at the same time at a far better value than at 15. Therefore, don't count out the possibility of them looking to deal back into the early/mid 20's, trying to add a second-round pick in the process — something they don't have because of the Brandon Marshall deal — and still get their guy in Ingram there.
Potential trade partner: Tampa Bay Buccaneers for best DE on the board
Philadelphia Eagles: Pick 23
If one thing is for sure when looking over the Eagles past couple of drafts, the Birds love to deal, whether that be up or down. Looking over Philadelphia's needs they have holes at CB, DL and OL and could have their pick from a number of talented prospects at 23 that could fill one of those needs. However, getting the best possible value is key for the Eagles and why take a guy you like at 23 when there is the potential of moving back and getting a similar type player? That's how the Eagles think. Therefore, watching them move back in the first round or even early into the second seems like a very likely outcome for Philly on draft day.
Potential trade partner: Buffalo Bills in order to jump the Seahawks and grab the 3rd QB off the board.
Chicago Bears: Pick 29
The Bears love to look offensive and defensive line in round one and if one of the top offensive tackles in the class falls to them here at 29 I definitely think they would pull the trigger. However, if not, I have a hard time seeing Chicago going D-line late in round one, especially if forced into pulling the trigger on a character concern guy like Marvin Austin. Cornerback and wideout are both possibilities at 29 as well, but if there isn't an OL on the board, I could definitely see the Bears dealing back into round two.
Potential trade partner: San Francisco to nab their QB of the future with one of the second-tier senior quarterback prospects.
New England Patriots: Picks 17 and 28
The Patriots aren't going to be content to stay in all of their spots during the first three rounds and simply take the best player available. Typically, New England has been extremely willing to move back, acquire more picks and try to add as much value to their draft as possible. However, with so much ammo in this year's draft, do they actually try to move up and bring in one of the top-tier talents in the draft? It's very possible. The Pats are a very talented team and are just a couple dynamic weapons away on defense from lifting the Lombardi trophy once again. Therefore, don't be shocked to see them package some of their picks this year in order to go up and get an impact-caliber prospect on the defensive side of the ball, possibly in the top ten.
Potential trade partner: Tennessee Titans for a shot at landing a potential blue-chip caliber defensive lineman, i.e.. Robert Quinn or Nick Fairley.