December 26, 2011 -
National Football Post
Five prospects to watch in today's UNC/Missouri showdown
The top five prospects worth watching in today's Independence Bowl…

1. DE Quinton Coples: North Carolina (6-6, 285)

Can be as good as he wants to be in the NFL. The game comes very easy to him and he can be dominant if he learns to use his arms even better to slip blocks in the pass game, but with more time I expect that to improve. The sky is the limit as long as he's willing to work at his trade and keep his motor running.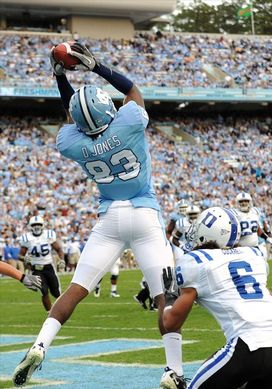 ICONJones can really go get the football.
2. OLB Zach Brown: North Carolina (6-2 230)

A run and hit guy with impressive athleticism and range. Possesses solid instincts and is a better read-and-react linebacker than given credit for, but still not elite in that area. Nevertheless, looks like a starting caliber 43 weak side guy who would be ideal in a cover two scheme.

3. WR Dwight Jones: North Carolina (6-4 225)
Really came into his own during the second half of the year in 2010 and has just kept getting better ever since. Runs well and can accelerate quickly for a big receiver, exhibiting natural fluidity to his game in the process. Needs to improve as a route runner, but talent is there for this guy to be a play making starting wide out in the NFL.
4. TE Michael Egnew: Missouri (6-6 245)
Has a massive frame and the skill set to learn to play with his hand on the ground, but is going to need time. However, he can come in from day one and be used as an "off the line Y" and create mismatches in the pass game.
5. DT Dominique Hamilton: Missouri (6-5 305)
Plays the run much stronger than his frame would indicate. He's got a burst off the snap, plays with leverage and extends his long arms. Has the frame to add 15 to 20 pounds and could get some real looks as a 34 nose or even a five-technique if he stays at 305. Either way, if he can stay healthy he looks like an intriguing 34 prospect because of his ability to win vs. the run. If he continues to improve, certainly looks worthy of a pick and a roster spot.
Follow me on twitter: @WesBunting
Check out the NFP Draft page here...