January 22, 2011 -
National Football Post
Five prospects who need a big week in Mobile
With the National Football Post getting its bags packed once again and hitting the road for Mobile, Ala., we thought it would be a good time to take a look at five guys in desperate need of putting on a strong showing in order to help their draft stock at this year's Senior Bowl.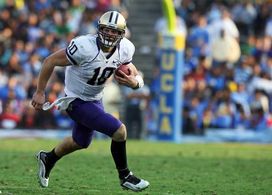 ICONLocker is in need of a big week in Mobile.
QB Jake Locker: Washington
The sky was the limit for Jake Locker coming into the 2010 season after being a potential candidate for the first overall pick last draft. However, since then, Locker struggled to find his rhythm in the pass game and was really inconsistent with his accuracy all season long. His completion percentage, his passing yards and his touchdown throws were all down from a year ago and he just never looked comfortable working his way off his initial read, deciphering defenses and finding his secondary open option in the pass game. And even when he did have an open target to throw to, he at times seemed to be pressing too much and simply missed some really easy throws, even in the three-step game.
However, he's a talented kid with a strong arm, quick release and is a natural leader who everyone seems to really around. Plus, he's a good enough athlete to buy time in the pocket and create yards once he breaks contain. But this is a critical week for Locker to get some more positive momentum going in his favor and ease the doubts NFL officials have about his poor senior year if he hopes to end up going in round one.
QB Christian Ponder: Florida State
Another quarterback who looked like a shell of himself from last season was Florida State QB Christian Ponder. He was banged up and bruised for the majority of the year, with injuries ranging from an achy shoulder to bursa sack problems to a sore elbow, all of which really took away from his velocity throwing the football. And since Ponder isn't a real strong-armed guy to begin with it really allowed opposing defenses to compress the underneath pass game without much fear of getting beat over the top. This ultimately forced Ponder to rely on his athleticism in order to pick up yards with his legs and he never seemed to get comfortable in the pocket in the face of pressure all season long once he began to be nicked up. Nevertheless, he's been training in Arizona for the past couple weeks and seems to be well rested and ready to put his best step forward. Therefore, if we can see the return of the 2009 Ponder this week, it could go a long way in boosting his stock come April.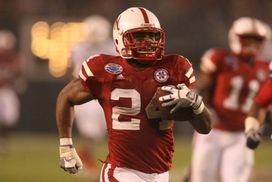 ICONPaul has to prove he can be a more consistent pass catcher.
WR Niles Paul: Nebraska
At 6-1, 220 pounds, no one can say that Paul doesn't look the part. He's a physically put together wideout with a strong upper body, a powerful stride and has the ability to get behind defenders and track the football. He's a developing route runner but lacks elite body control when asked to get out of his breaks and will drift a bit when trying to settle his feet in jump ball situations. Overall, he's a big, physical kid who has the athleticism to create initial separation for himself and create after the catch.
However, he needs to display better concentration as a receiver, as he exhibited too many lapses and simply has a tendency to put the football on the ground in big situations. He's got a good pedigree, being the nephew of former Nebraska/Packers standout Ahman Green, but there are also some character concerns as well. Therefore, playing with some consistency this week is key for him going forward.
DL Allen Bailey: Miami
For a guy his size, Miami DL Allen Bailey is one heck of an athlete. He's a long-armed kid with natural power in his lower half, runs extremely well in pursuit and can consistently make plays off his frame. However, when evaluating his play this season, he's not a real playmaker or natural pass rusher on the outside. For his size, he has a good first step but not good enough to routinely threaten the corner. He doesn't use his hands real well to gain inside leverage and disengage from blocks, and he doesn't anchor vs. the run and play off blocks as well as you would expect. He's simply a much better athlete than football player at this stage who has some upside, but he is going to need some work. I actually think he might be better suited to play inside as a one-gap DT where he can simply knife his way up the field and make plays before they start. Therefore, this is a big week for Bailey to prove he can be productive vs. top-tier competition if he hopes to get drafted as high as his physical skill set would leave you to believe.
CB Shareece Wright: Southern Cal
Wright was a player coming into the year who I thought had the makings of developing into potentially the top senior cornerback in the country. He's a tall, physical kid who possesses the ability to re-route off the line, fluidly turn and run down the field and locate the football. However, with Monte Kiffin running the defense in 2010, he was asked to play more off and zone coverage where he struggled with his depth and overall click and close ability, giving up far too many completions underneath due to a higher than ideal pad level in his drop. He will get the chance to prove this week that he is a much better fit for a more physical press scheme and will play much closer to the line at practice during one-on-one sessions, where he needs to show well if he hopes to get the boost in his draft stock he was looking for from his play during the season.
Follow me on twitter: @WesBunting