December 17, 2011 -
Barry Dorey
Five prospects worth evaluating today
Five intriguing prospects worth watching today…

OG Derek Dennis: Temple (6-3, 328)
He's worth a pick just for the simple fact he moves so well for a 325-pound lineman. However, he needs to learn to play lower and I'll be watching if he can sink his hips and keep his base under him in pass protection. Nevertheless, he's a fluid athlete on the move and has the talent to continue to develop.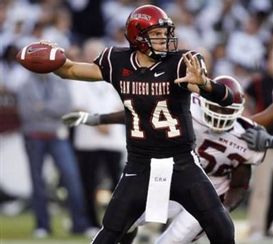 ICONLindley can make all the throws, it's his footwork that's a question.
RB Robert Turbin: Utah State (5-9, 216)
He's a thick, compact kid with a strong upper body and powerful set of legs. Turbin has been the bell cow on the Utah State offense all season and has the ability to be effective between the tackles, consistently creating something out of nothing. However, I'll be evaluating just how dynamic this guy is as an athlete in order to determine if he can have the same kind of success at the next level.

TE Ladarius Green: Louisiana-Lafayette (6-6, 236)
He's a big, lean athlete who can make plays down the seam and releases well off the line. However, he's not an in-line blocker and doesn't play well in tight areas vs. man. Green has the tools to be productive in the pass game. However, be sure to watch closely how well he separates on sharply breaking routes, which will help determine just how effective he can be in all areas of the game in the NFL.

QB Ryan Lindley: San Diego State (6-4, 230)
Lindley is certainly worth a draft pick as he has the skill set physically to go somewhere in the mid round range -depending on how well he performs the rest of the year/post-season-. However, if he doesn't improve his overall footwork/coordination from the pocket, it's going to be tough for him to make plays in the NFL consistently.

WR Lavon Brazill: Ohio (5-11, 191)
A natural plucker of the football with the quicks to avoid contact off the line and accelerate into his route. However, he isn't the type of a big time dynamic athlete to consistently just run away from coverage in the NFL. Therefore, I want to see how he handles separating on sharply breaking routes in order to see if he's worth a pick or not.
Follow me on twitter: @WesBunting
Check out the NFP Draft page here...