February 15, 2011 -
National Football Post
Five senior prospects that need to show well at the NFL Combine
With the NFL Combine quickly approaching, the NFP takes a look at five senior prospects that will have a lot of money riding on the line based on their one workout.
CB Prince Amukamara: Nebraska
I wrote an article last week discussing my reservations on Amukamara as a potential blue-chip prospect, citing his lack of speed and proposing the idea that he might be an ideal candidate to make the move to free safety at the next level. Therefore, if he hopes to get significant looks as a potential top-ten prospect the guy has to run in the sub-4.5 range. There aren't many top-tier corners in the NFL who play on the outside and run in the 4.5-plus range. Now, I expect him to perform very well in the short-area quickness/change of direction drills and could make a run at a 4.0 short shuttle. However, recovery speed is the one trait Amukamara needs to prove he possesses.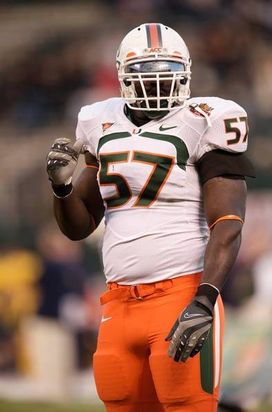 ICONBailey is going to "wow" at the Combine.
DL Allen Bailey: Miami
His tape isn't overly impressive and his play at the Senior Bowl was inconsistent, but based on the type of athlete Bailey is, this is the time for him to shine and generate a boost in his draft stock. Bailey is a freak of nature in terms of athletic ability. He's a former high school linebacker who made the move to the defensive line during his time at Miami, but he has been able to maintain his speed/agility. I have talked to several sources that say the 6-3, 280-pound specimen is going to run in the sub 4.65 range, a really impressive number for any defensive lineman. Again, I think the Combine will help generate some positive buzz for Bailey going forward, but it doesn't prove he's a better football player and no matter how well he runs, it will not force me to change my "reserve only" grade on him just because he's a gifted athlete.
RB DeMarco Murray: Oklahoma
I've been critical of Murray throughout the draft process in terms of him being able to develop into an every-down type back in the NFL. He possesses a linear build, runs upright, has a tough time making defenders miss in tight quarters and lacks a great feel between the tackles. However, the two attributes I really liked on tape concerning his game were his straight-line speed and ability to catch the football out of the backfield. After breaking him down I thought that he could definitely find his way onto an NFL roster as an intriguing 3rd down type back and add some versatility out of the backfield but split out as well. However, he showed up at the Senior Bowl weighing 214 pounds, about seven pounds heavier than listed on the Oklahoma roster. And I guess it was his effort trying to prove he can bulk up and be an every-down back. However, he didn't look nearly as explosive as Senior Bowl counterpart RB Kendall Hunter and needs to prove he can still run a fast time at the Combine, preferably in low 4.4 range. Because in my mind he's not a starting NFL back no matter how much weight he adds, and if he loses any kind of a step in order to add bulk, I think it could really cause him to fall further than most believe come draft day.
WR Austin Pettis: Boise State
There isn't too much you can say about Austin Pettis at this stage as a prospect that hasn't been said. He's a big, long-armed guy with great concentration and hands when working the middle of the field. He also has some short-area quickness to his game allowing him to create a step initially out of his breaks. However, the big question is speed. Watching him on tape we know he's not a turtle, but at the same time the key for Pettis going in the top four rounds of the draft in my mind is the 4.6 mark. If he can run in the 4.55 range I think that will go a long way for his stock. But, anything in the 4.6+ range and we could see Pettis sliding a lot further than his actual tape would have indicated. And I'm not saying he isn't or won't be a good player because of it, but these 40-times affect prospects every year, especially at the wide receiver position.
QB Pat Devlin: Delaware
Based off tape I liked what I saw from Delaware QB Pat Devlin, but before stamping a grade on him I wanted to see him throw live. And unfortunately that's when I came away unimpressed. Now, at the East-West Shrine game he was asked to take a lot of snaps from under center, was still trying to get comfortable with his footwork and at times seemed rushed, never really getting his feet under him. At Indy he will be in a controlled environment and having more time to work on his drop/footwork from under center could lead to a better throwing performance than the one we saw in Orlando. However, going in Devlin does possess questionable arm strength in my view for the next level and watching/comparing him to the rest of the QB crop in this year's class could go a long way in determining if he is in fact worth anything more than a later round type pick or not.
Follow me on twitter: @WesBunting