November 03, 2011 -
National Football Post
Florida State OT Zebrie Sanders: A must watch tonight
Who is he?
Sanders is a well-known prospect among the NFL scouting community. He's an athletic 6-5 307-pound tackle who has started on the Seminole offensive line for the past four years and has the skill set to play on either the right or left side at the next level.
However, among the more casual college football fans, he's better known as the Florida State lineman who refused to move vs. Florida in 2010.
Check out the link here.
Nevertheless, Sanders is one of my favorite offensive tackle prospects in the class, as I rated him as the top senior OT coming into the year and now he currently sits second.
The rundown…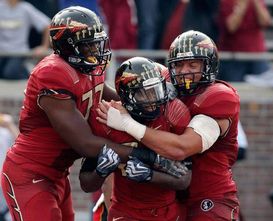 ICONSanders has taken over for Datko at LT this year.
After missing spring practice in 2011 while recovering from abdominal surgery, it took Sanders a bit to get his feet back under him and play up to his 2010 level. However, he's now playing about as well as I've seen since watching tape of him last season, all while talking over the blind side responsibilities from former Florida State LT Andrew Datko after he went down with a shoulder injury.
Sanders exhibits good flexibility when coiling up into his stance, solid range toward the edge and the lateral ability to mirror though contact. But the big "plus" to his game I have noticed the past couple weeks is his overall patience into blocks and his ability to maintain balance into contact. He's done much better job keeping his base down when shooting his hands in both the run and pass game and maintaining better footing into contact.
He's also displayed a better feel quickly getting into blocks in the run game, extending his arms and sealing defenders from the action on the edge since moving over to the left side. And in all honestly he's looked more natural overall playing on the blindside than he did throughout the early part of the season as a right sided player.
Where he goes from here…
Nevertheless, consistency is the biggest thing I want to see from Sanders tonight, as well as his ability to continue to play with anchor in pass protection and stick to blocks through contact. He's got the lateral quickness, length and range to hold his own as a pass blocker with the best of them, it's just making sure he keeps his footwork and punch compact and in sync.
And if he continues to improve in that area, he certainly looks like at worst a second round type prospect who has the ability to mature into an NFL caliber blind side protector with a year or two of work.
Follow me on twitter: @WesBunting