April 03, 2012 -
National Football Post
Former rugby star signs with the Jets
By Robert Klemko, USA Today
Special to the National Football Post
There's more than one out-of-towner who's very excited to be a member of New York Jets.
We're not talking Tim Tebow, but we could be talking about the NFL's next great tight end. Hayden Smith, 26, is an Australian-born, American college basketball player turned rugby pro who will play football for the first time in his life for coach Rex Ryan.
He's agreed in principle to a three-year deal with the Jets, his agent Jack Bechta confirmed Tuesday afternoon. He'll earn an average $355,000 in salary with a portioned guaranteed in his first season.
"I've always said that you have to follow your dream," Smith tells USA TODAY Sports. "It's worked out well for me so far but its without a doubt the biggest step that I'll be taking and it's something that I'm very excited about."
Smith is 6-6, 265 pounds, runs the 40-yard dash in 4.75 seconds, speaks in a thick Aussie accent and has never played a down in his life. But he has NFL minds gushing over his potential.
Former NFL tight ends coach Tim Brewster helped convert Antonio Gates from a college basketball player into an eight-time Pro Bowler with the San Diego Chargers, and worked with Smith in his quest to join the NFL.
"I was really amazed at a couple of things. First, his ability to assimilate all the information I was throwing at him. Football makes sense to the kid. Second, his work ethic off the charts. He's a way above average athlete for the position. I think the kid has an outstanding future in the National Football League."
The Jets will sit Smith behind starter Dustin Keller, giving the first-year player an opportunity to learn football basics without pressure. But Smith's no stranger to quick assimilation. He dreamed of being an NBA player, and accepted a basketball scholarship to Division II Metropolitan State in Denver. When the NBA took no interest, he turned to club rugby and quickly caught the eye of the U.S. national program.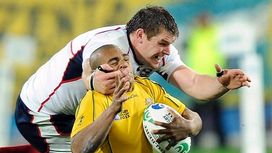 Hayden Smith (top) will look to make the transition from rugby to professional football.
He shocked his American teammates with his understanding of the game. "I didn't really give him much of a chance," says USA Rugby captain Todd Clever. "We get a lot of big athletes and he just came in and you could tell right away that he's different, that he looked at the game differently."
Success in the Rugby World Cup translated into a position on one of Europe's premier teams, the Saracens of St. Albans, England, where he earned close to $300,000 last season. But Smith saw American football as a greater challenge, and sought out Bechta, who set up a low-key workout with former Chicago Bears scouting director Greg Gabriel.
"It's something that I always wanted to do growing up in Australia," Smith says. "You look at American pro sports as the world class leagues. It had been a dream to play in the NBA but then also you see the NFL on the same level."
Smith, Gabriel and Bechta met at the Senior Bowl on Jan. 28 in Mobile, Ala., and sequestered their workout to a remote corner of the practice field once the college athletes had cleared out.
"I was skeptical," Gabriel says. "This is a guy that's never played the game. I didn't know if he could run a good 40 or even come out of a three-point stance. With that being said, I was pretty amazed.
"I had to tell him something or explain something to him one time and one time only. Guys who have never been in a three-point stance tend to rise up really quickly. I explained to him once, you don't want to do that, you want to gradually come up. Then it was like he'd done it his whole life."
Gabriel says a few of his acquaintances from the Canadian Football League wandered into the experiment. Fifteen minutes into the workout, they were willing to sign Smith on the spot.
"After that I spoke to four or five NFL teams and said you got to take a look at this guy," Gabriel says. "There's too much talent to pass him up. It's going to take him a long time to develop because he hasn't played the game, but there's a lot to work with. He's a freak athlete."
Brewster says a player such as Smith best suits a coach willing to think outside the box. See Ryan.
"A lot of coaches shy away from guys that haven't played the game because it is an exhausting process," Brewster says. "To me, that's the exciting part. Taking a piece of clay like that, and I am going to tell you Hayden Smith is one beautiful piece of clay, just mold them into what you want him to be."
Smith knows there will be a learning curve but isn't fazed by the prospect of picking up a new game on a team full of distractions. He joins a locker room which Pro Bowl cornerback Darrelle Revis last month summed up with one word: "Disarray."
"In my situation, I'm going to do everything I can to help the organization," Smith says. "We're very fortunate in rugby to have a very strong team culture, and that's something the Saracens in particular pride themselves on. I definitely see the value in having a positive team culture and I'll be very conscious of doing what I can to make that happen.
"First things first, I need to learn the sport and be able to help the Jets get on the front foot."