February 09, 2012 -
National Football Post
Former Tennessee standout FS Janzen Jackson to enter NFL Draft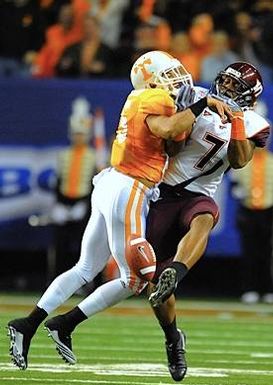 ICONJackson will throw his body around.
FS Janzen Jackson: McNeese State (6-0, 190)
A former five-star recruit who enrolled at Tennessee in 2009 and played immediately in the secondary. Is a good athlete with a "plus" first step, gets up to speed quickly and looks like a 4.4 guy in the deep half. Possesses a solid feel when asked to decipher routes in front of him. Takes good angles toward the throw, can undercut routes and exhibits "plus" ball skills. Showcases a good closing burst and settles his feet well when asked to track vertically and adjust to the throw.

However, is raw with his footwork in his drop. Doesn't sit into his backpedal, stays upright and almost bounces backward toward the deep half. Struggles maintaining balance in and out of his breaks because he plays too high and narrow, and initially has a tough time re-directing. Wastes too much motion when trying to initially change directions and too often is forced to turn his back to the football in order to gather himself. Exhibits natural fluidity in the hips when looking to turn and run, just plays too high.

Overall feel and instincts are solid. However, will get caught with his eyes in the backfield at times and stop moving his feet. Showcases the range to make up for a slow read or false step when asked to turn and run, but at times will take himself out of plays in the deep half jumping routes and making a poor read.

Showcases some power/violence as a tackler. Isn't afraid to throw his body around when asked to come up and play the run. Generates a good pop on contact and can disengage ball from man. However, struggles to breakdown and balance himself once a ball carrier can square him up. Has a tendency to play out of control and throw his body around with reckless abandon. Isn't the most balanced or consistent of wrap-up guys and will give up some big plays when coming downhill simply whiffing into contact.

Does have some character concerns. Was dismissed from the Tennessee program in 2010. Transferred to McNeese State in 2011 where he played in nine games and recorded two interceptions.

Impression: A talented kid who can run, track the football and can be a violent striker on contact. However, isn't the most sound of wrap-up guys, is raw with his footwork and has character concerns. Nevertheless, has the talent to play in the NFL and should get a shot because of his ability to run and strike.

Grade: 5.9 C J
Follow me on twitter: @WesBunting
Check out the NFP Draft page here...