February 20, 2013 -
Erik Oehler
Four offensive skill position players who need a strong Combine
As players begin to arrive in Indianapolis, NFL personnel are here waiting to evaluate their every move. Although the events over the course of each player's three days should not drastically change a player's grade, there is little doubt that NFL teams take the Combine process seriously. We start by taking a look at four offensive skill position players that will definitely be under the microscope in Indy.
1. Le'Veon Bell, RB, Michigan State, Junior (6020 E, 237 E and 4.65 E): A punishing and physical ball carrier, Bell has shown the ability to wear down opposing defenses with surprising ease. The question is does he have enough quickness and athleticism to carry over his production to the NFL. Based on film evaluation, Bell is much more of a smooth and fluid athlete, but not a quick twitch one. While he has the jumping ability, balance and coordination to hurdle low tackles and the playing strength to easily run through attempted tackles to gain yards after contact, the concern is that he lacks the explosive burst and playing speed necessary to be a productive starter in the NFL. He does not have the speed to get the corner on his own and cannot change directions and explode in other direction fast enough to bounce runs outside against the speed of the NFL. Perhaps most alarming to NFL personnel is Bell's inconsistent aggressiveness running with the ball on inside runs, which is vital for any power back to be successful in the NFL. In the end, Bell needs to handle the interviews well, but more important prove to teams that he is an explosive athlete if he wants to avoid being a third day draft pick.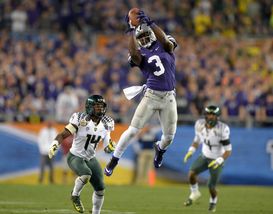 US PRESSWIREKansas State WR Chris Harper goes way up the ladder to make a great catch.
2. Chris Harper, WR, Kansas State, Senior (6010, 231 and 4.41): Highly productive at Kansas State and possessing the hands, playing speed and receiving skills of an NFL starter, Harper just needs to continue his strong spring to cement a spot in the second round. While he has a productive receiver at Kansas State, his overall production suffered due to inconsistent quarterback play. When he got the chance to catch passes from better passers at the Senior Bowl, he stood out and looked/played a lot like Ravens' receiver Anquan Boldin did at Florida State. Very sharp and precise in his route running, Harper has deceptive quickness and technique getting out his cuts to gain separation. Great concentration and soft, natural hands help Harper to catch every pass thrown his way and made one great catch after another throughout his college career and down in Mobile. Harper needs to prove to NFL teams that he has the quickness and burst that has been tough to consistently find on film if he hopes to be a second round pick.
3. Justin Hunter, WR, Tennessee, Junior (6040 E, 200 E and 4.40 E): A player who jumped off the film when I evaluated his play in 2011, Hunter must prove he can return to his previous level of play if he wants to be drafted in the first two rounds. Prior to his knee injury in 2011, Hunter's play was incredible and reminded me, along with other NFL personnel I have spoken with, of Randy Moss. Blessed with great length, hands and natural speed, Hunter's competitiveness both going up to catch contested passes and running after the catch helped him stand out from other receivers. Justin Hunter's case reminds me a lot of former Bills' star receiver Lee Evans who looked like a star and likely Top 10 pick as a junior at Wisconsin, but after his knee injury he looked like a shadow of his former self as a senior (Although Evans displayed the consistency catching the ball, toughness catching passes in traffic and great competitiveness as a Senior) in terms of explosiveness, speed and big play ability. So although, Hunter's struggles catching the ball and maintaining a high level of competitiveness in 2012 make me doubt he will ever return to his pre-injury form, the possibility cannot be discounted and the Combine provides him with an opportunity to prove he will if he works out well and his medical checks turns out just fine.
4. Vance McDonald, TE, Rice, Senior (6041, 262 and 4.75 E): In a year with many athletic, big play tight ends, McDonald is not well known and is right there with the best of the tight ends in terms of physical talent. At the Senior Bowl Vance made it look easy getting open and catching passes with soft, natural hands. Although he is big and strong like Gronkowski, teams have been impressed more with his sharp routes and ability to adjust and make tough catches, not so much with his brute size and speed. It is not likely that McDonald will jump over either of the top tight ends, but a strong Combine could put him on position to be a high 2nd round pick. There are a number of good tight ends in the NFL, but the one whom McDonald seems to play the most like is the Cowboys Jason Witten and I believe he has that type of upside. However, he needs to prove to the teams that he has the quickness, burst and speed to be a play-making receiving tight end if he wants to be chosen in the first 64 picks.
Email Russ at Russelllande@yahoo.com and Follow Russ on Twitter @RUSSLANDE