February 20, 2013 -
Erik Oehler
Four O-Linemen that NFL teams are excited to see at the Combine
1. Lamar Mady, OG, Youngstown State, Senior (6023, 314 and 5.20 E): A player that many NFL scouts viewed as an ideal late round developmental guard during the season, Mady's impressive play at the Texas versus the Nation Game helped his draft stock. Although he lacks elite size, Mady's playing strength enables him to stop power rushers in their tracks and to turn and seal defensive tackles out of the play on inside runs. Most impressive for Nady was how much he improved from one practice to the next down in Dallas, which says a lot about his ability to learn from coaching. Now all Mady has to do is impress coaches at the Combine both in interviews and on the field as many have not seen much of him yet because coaches generally only attend the Senior Bowl. If Mady does his thing and shows the foot quickness, flexibility and ability to move with good body control and balance he could put himself in position to be as high as a third or fourth round pick.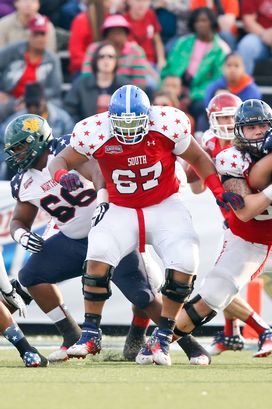 US PRESSWIREKentucky guard Larry Warford slides in pass protection during Senior Bowl practice.
2. Larry Warford, OG, Kentucky, Senior (6032, 333 and 5.15 E): Nearly all the Draft rankings have Chance Warmack and Jon Cooper as the two top guards with Warford behind them as number three. While I do not believe that Warford can catch those two, he could put himself in a great position to be not only the third guard drafted, but possibly at the end of the first round or the top of the second round. At the Senior Bowl Warford displayed outstanding flexibility and hand use, which combined with his strength so that he could stone any pass rusher, which he showed stopping Georgia's John Jenkins repeatedly. His performance in Mobile not only impressed scouts, but many coaches who were seeing him for the first time came away thinking he is a "plug and play" guard who will start as a rookie. Not only is Warford a strong guard, but he has the foot quickness, balance and agility to adjust and block well out in space. He needs to show at the Combine that he is closer to Cooper and Warmack than many perceive as this would make teams think about passing on one of those guards with a top ten pick thinking they may get him at the top of the second round.
3. Earl Watford, OG, James Madison, Senior (6036, 300 and 5.05 E): While dominating at James Madison is what got scouts attention initially and helped him earn a spot at the East West Shrine Game, his performance in Tampa against better competition has him considered as one of the best small school prospects in the Draft amongst the scouts. Now at the Combine Watford gets the chance to prove his mettle in front of the entire NFL. Very quick and nimble, Watford's ability to pull and block so effectively out in space is impressive and if he is able to show this athleticism in workouts at Indy he could overcome concerns about his being a just a big fish who dominated in a small pond. Additionally, as is always the case with non FBS (Formerly Division 1A) players, NFL personnel want to see how he handles being out of his element when he is thrown into the uncomfortable situation at the Combine and has to compete against much more accomplished linemen. Although he is not likely to be drafted in the first three rounds of the Draft, a strong performance in Indy could put him in position to be an early third day pick with a chance to slip into the bottom of the third round.
4. Menelik Watson, OT, Florida State, Junior (6060 E, 333 E and 4.95 E): Perhaps the most intriguing player in the entire NFL Draft, we have a feeling that Watson could end up being the star of the entire week in Indy. Playing soccer while growing up in England and then taking up basketball later in his youth, American football was likely the last thing on Watson's mind when he was offered a basketball scholarship to tiny Marist College in upstate New York. However, after playing basketball there and attending a Florida State football game during a school break he was convinced to give football a try as it seemed unlikely he had the talent to play in the NBA. So for a player who did not play football until 2011 when he played for Saddleback junior college (Where he started the final 2/3 of his only season there) and then started every game at Florida State in 2012, it is remarkable how far he has come. While he still makes many fundamental errors, like stopping his shuffle which leads to him crossing over and chasing the pass rusher around corner and bending at the waist and leaning/reaching to make in-line run blocks, there is little doubt that for such a massive and powerful man the future is bright. Few 6'6 offensive linemen have the foot quickness, flexibility and overall athleticism that he does and when you add in his rare playing strength, he has the rare skill that is often reserved for a top ten overall pick. He is likely to impress in interviews as he is an intelligent young man and as long as teams feel comfortable that he can improve his technique with continued coaching then I would not be shocked if he makes a huge jump up draft boards and ends up being the third offensive tackle taken in the Draft.
Email Russ at Russelllande@yahoo.com and Follow Russ on Twitter @RUSSLANDE