April 28, 2012 -
National Football Post
Fourth round breakdown
Round four notes…
• Not only did I give Miami RB Lamar Miller a similar grade to Virginia Tech RB David Wilson, (who went in round one) but I also think he can have a similar impact from day one. Miller possesses a natural explosive element to his game and when he puts his foot in the ground, he gets up to speed quickly and can be a home-run type threat. Could end up wining the starting job in Miami during the 2012 season.
• Yes, Washington DT Alameda Ta'amu does have a tendency to play a bit high and will struggle with hand placement when asked to shed. However, he possesses an elite combination of size, power and get-off burst and I think the Steelers got an absolute steal with him in round four. He may not be as talented as first round NT Dontari Poe, but I think Ta'amu could end up having a better NFL career, one similar to standout NFL nose tackle Paul Soliai.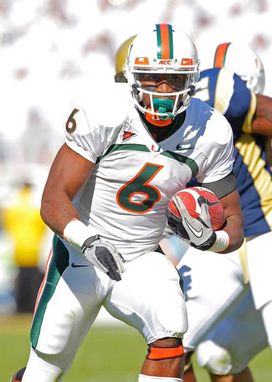 ICONLamar Miller could be an impact player early in Miami.
• You can never have too many good quarterbacks on a roster and the Redskins got a guy in Kirk Cousins who, in my mind, won't ever be a big time NFL starting signal-caller. However, he's the kind of backup who can grind on Robert Griffin III day in and out at practice and really bring the best out of him throughout his NFL career.
• I loved the Chiefs fourth round selection of Fresno State wideout Devon Wylie. He's the definition of a quick-twitch athlete who can separate quickly out of his breaks. He also possesses legit 4.3 speed and can run those deep crossing patterns from the inside. Wylie should be able to contribute early on as a slot guy and is the closest thing to Wes Welker I have seen come along in the NFL draft since the Patriots wide receiver came out.
• The Bears added one of the draft's most versatile athletes in Temple's Evan Rodriguez. Rodriguez has the ability to play FB, TE and H-back at the next level as he runs well, can create mismatches when split out and will stick as a blocker in the run game. Could be used like an Aaron Hernandez in Chicago.
• Speaking of mismatch pieces, the Bengals added Georgia standout tight end Orson Charles, who is one of the better athletes at the position in the draft. He plays fast, has the speed to get down the seam and much like Rodriguez, is a guy who can be used all over the Cincinnati offense.
• Arkansas wideout Jarius Wright is another good fourth round value. He showcases the ability to play quick out of his breaks, isn't afraid to run down the seam and take a hit, and should be able to mature into a 'plus" slot guy for the Vikings.
• Georgia CB Brandon Boykin is a gifted athlete who plays more physical than his frame would indicate. He isn't the most consistent of tacklers, but he's got a great feel in zone coverage and showcases the short area quickness to hold his own in man. He's the type of slot guy the Eagles desperately needed to add in their secondary and they got a great value here.
• I think the real strength of the safety class in the 2012 draft is on day three. The Ravens landed one of the NFP's highest rated FS prospects in Christian Thompson, who has an ideal size/speed combo and could mature into one of the best safety prospects to come out of this draft. A great fourth round selection.
Follow me on Twitter: @wesbunting