April 30, 2011 -
National Football Post
Fourth Round Value Picks
Here's a look at three of my favorite picks from round four…
Cleveland Browns: TE Jordan Cameron (selection #102)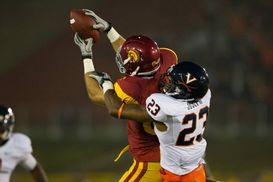 ICONTight end Jordan Cameron
Cameron could be the next basketball stud turned NFL tight end. The former USC standout is still learning the game. However, his leaping ability, speed and fluidity as a route runner are all apparent as you watch the guy on tape. He might be better used split out in year one, as he can create mismatches down the seam. Long term, Cameron has the potential to be a gifted starting pass catcher in the league.
Oakland Raiders: CB Chimdi Chekwa (selection #113)
I'm not a huge Chekwa fan, but the two things the guy does well are press off the line and run, which is all he'll be asked to do in Oakland. He has good size, will tackle in run support and can track the football vertically. Chekwa is a bit stiff to play in space, but he won't need to worry about that in the Raiders secondary.
San Francisco 49ers: RB Kendall Hunter (selection #115)
Hunter isn't the tallest of backs, but he packs nearly 200 pounds into his 5-7 frame and has the ability to consistently make defenders miss. He's got a great feel in both a phone booth and in space, can catch the football out of the backfield and will block in blitz pick-up. Looks like an ideal third down back for the 49ers offense.
Best prospects still on the board: Brandon Burton (CB, Utah), Ricky Stanzi (QB, Iowa), Deunta Williams (SS, North Carolina), Tim Barnes (C, Missouri), Stephen Schilling (OG, Michigan)
Follow me on Twitter: @WesBunting