July 08, 2011 -
Barry Dorey
Friday feasts and beasts
Foster Parenting
It's darn-near impossible to create a laundry list of reasons as to why Arian Foster shouldn't be the No. 1 overall pick in standard-scoring and Points Per Reception league drafts, based on the output from his last 18 games (2,089 rushing yards, 24 total TDs). In fact, with the exception of two clunkers against the Giants and Titans last year, there's ample evidence to suggest the 24-year-old Foster could someday evolve into the greatest fantasy back of this century -- LaDainian Tomlinson, Edgerrin James and Adrian Peterson be damned. And yet, there's a reason why none of the last four studs to amass 2,000 rushing yards in one season (Chris Johnson, Jamal Lewis, Terrell Davis, Barry Sanders) could come close to repeating the feat the following year. Circumstances change from year to year ... it's that simple (and complex). Here's a Don't-Call-'Em-Revelations look at Foster's prospects for 2011:
What He'll Like: The Texans boast arguably the best under-30 pair of tackles in Duane Brown and Eric Winston, and the club's underrated guards (Wade Smith and Antoine Caldwwell for now) have proven to be skillful road graters. Lump 'em together with head coach Gary Kubiak's extensive track record of running success (with Houston and Denver) ... and it's easy to see why Foster is a healthy lock for 90 total yards and .5 TDs every Sunday -- even against dominating defenses.
What He'll Like, Part II: While Foster did carry the rock 318 times last year -- his first full season as a starter -- he also posted 20 carries or less in 10 games. That tells me the Houston coaches are very conscious of Foster's long-term preservation, while trying to maximize his all-world talent. (How did this guy NOT get drafted?)
What He'll Like, Part III: As much as I appreciate the physical gifts of Kevin Walter and Jacoby Jones, neither receiver has proven to be a consistent dynamo WR2 in fantasyland; and while that may wreak minor havoc with Houston's yearly goals of offensive balance AND diversity, it greatly benefits the real-world and fantasy efforts of Foster, Andre Johnson and tight end Owen Daniels (should be fully healthy this season). After all, there's only one ball ... and Houston's defense can only be so wretched for so many years.
What He'll Love: With the likely exception of Week 14 (Dec. 11 @ Cincy), Foster and the Texans should have ideal playing conditions for 15 of their 16 games. That spells good news for fans who'll draft Foster with confidence, knowing bad weather or the Steelers/Ravens defenses won't be major obstacles during the fantasy playoffs. (Houston gets Pittsburgh and Baltimore in Weeks 4 and 6, respectively.)
What'll Blow His Mind Every Sunday: As long as Andre Johnson is on the field, opposing defenses will never risk eight or nine men in the proverbial box -- between the 20s, at least. In the last three seasons, Johnson has an eye-popping 302 catches, 4,360 yards and 25 touchdowns, despite numerous double-teams in the secondary.
What He May Loathe: Houston QB Matt Schaub finished 5th overall in passes last season (574), but a closer look reveals three games of 52, 54 and 62(!) attempts ... and an average of 40 passes from Games 2-15. Numbers like that suggest Foster's amazing efficiency from 2010 (4.9 yards per carry) will be hard to replicate in a lockout-shortened campaign. It's also possible that Foster will fall prey to an unavoidable aspect of Human Nature: Having a letdown, or hangover effect, off a near-perfect season.
What He May Privately Loathe: The day is coming -- perhaps as early as three days after a new CBA is ratified -- when the Texans pull out all the stops to find a WR2 who's a realistic threat for 70 catches and 1,000 yards every season; and eventually, that'll make a dent into their world-class fantasy stats. Assuming the Houston defense isn't surrendering touchdowns in six plays or less.
The Search For New Sidney
In 2009, I astutely predicted that Vikings wideout Sidney Rice -- coming off a 15-catch debacle in 2008 -- would amass 1,150 receiving yards and seven TDs with Sage Rosenfels as his starting quarterback. Of course, that was before Brett Favre officially entered the Purple picture and helped Rice tally 83 catches for 1,312 yards and eight touchdowns, while playing a major role in Favre's MVP-esque season with Minnesota (33 TDs/7 INTs/4,202 yards).
Over time, Rice has graduated from eminently replaceable asset to highly coveted receiver in fantasyland. But that ascension has created a vaccuum effect with owners, as we try to find a new stud out of the rubble of receivers with 30 or fewer catches last season. (Ironically, the injury-ravaged Rice and suspension-addled Vincent Jackson finished in the Under 30 Club ... but they don't count, given their 'star' status.)
In my search for the next Sidney -- an 1,100-yard receiver who'll undoubtedly be drafted at Round 10 or lower -- I've established the following criteria:
1. Each receiver has an established quarterback throwing him the ball
2. Each wideout has the measurables (size, speed, hands) to be a future No. 1 or 1A in real-world circles
3. Each receiver has little or no competition within their respective teams, fueling a potential breakout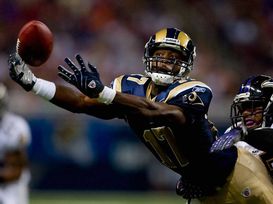 Are there big numbers in Donnie Avery's future?
This year's hunch pick is ... Rams WR Donnie Avery, the lightning-fast, highly versatile project in St. Louis. Drafted in the second round in 2008, Avery has shown flashes of his potential greatness (163 yards vs. New England in 2008) but has yet to become a consistent force on a club desperate for a consistent receiving force. But with a full year to recover from a knee injury (19 months ago), a resumption of his 4.4 speed and the connections to QB Sam Bradford and offensive coordinator Josh McDaniels, Avery could be an out-of-nowhere candidate for 72 catches, 1,170 yards and seven TDs.
Top 20 WRs With 30 or Fewer Receptions In 2010
1. Donnie Avery, Rams (should be a 15th-round steal)
2. Emmanuel Sanders, Steelers
3. Brian Robiskie, Browns (scored a TD in his last three games in '10)
4. Mark Clayton, Rams (last year's major injury halted a possible 80-catch season)
5. Randy Moss, Free Agent (a reputation pick here -- no more, no less)
6. Legedu Naanee, Chargers (zooms to the top IF Malcom Floyd signs elsewhere)
7. Golden Tat e, Seahawks (I'll TRY not to make any maple bars jokes this season)
8. Jerome Simpson, Bengals (he'd be No. 2 if A.J. Green wasn't in Cincy)
9. Arrelious Benn, Buccaneers
10. Darrius Heyward-Bey, Raiders
11. Jacoby Ford, Raiders
12. Demaryius Thomas, Broncos
13. Brandon Tate, Patriots
14. Eric Decker, Broncos
15. Harry Douglas, Falcons
16. Early Doucet, Cardinals
17. Devin Aromashodu, Bears (could be a free agent sooner than later)
18. Ben Obomanu, Seahawks
19. Riley Cooper, Eagles
20. Danario Alexander, Rams (a McDaniels-aided pick)
The Paper Chase
I've always been an advocate of buying at least six or seven fantasy publications before the August drafts, as a means of forming consensus opinions on star players and devising well-heeled strategies for drafting in standard-scoring and PPR leagues. But I'm facing a major dilemma during the lockout: Should I support my fantasy brethren's work with these magazines ... knowing the info could be woefully out-of-date once the labor impasse ends sometime around July 15? With Sports Illustrated in the spring, I made the conscious decision not to partake in this year's fantasy spectacular. My heart just wasn't into it; but now, I'm starting to think some pre-lockout pieces can hold my interest through Sept. 1. (NOTE: I'm aware of the irony ... since today's column would fall under the category of "pre-CBA extension" column.)
The Fortunate Ones
A 'workhorse' back in fantasyland essentially logs more than 50 percent of the carries/touches in three scenarios -- 1) On 1st down 2) On 3rd and long and 3) With goal-line touches. But since 21 backs racked up 230 or more carries last year -- a sizable bump from 13 in 2009 -- perhaps I'm underselling this list of the 19 undisputed workhorses of 2011:
1. Adrian Peterson, Vikings
2. Chris Johnson, Titans
3. Ray Rice, Ravens
4. Jamaal Charles, Chiefs (Todd Haley envisions an expansion of Charles' role)
5. Arian Foster, Texans (history tells us the Hangover Effect is real)
6. LeSean McCoy, Eagles
7. Peyton Hillis, Browns
8. Darren McFadden, Raiders
9. Maurice Jones-Drew, Jaguars
10. Matt Forte, Bears
11. Michael Turner</strong>, Falcons
12. Frank Gore, 49ers
13. Steven Jackson, Rams
14. Shonn Greene, Jets
15. Jonathan Stewart, Panthers
16. DeAngelo Williams, Dolphins (I'm assuming he'll sign with star-starved Miami)
17. Rashard Mendenhall, Steelers
18. Cedric Benson, Bengals
19. LeGarrette Blount, Buccaneers
The Ultimate 1-2 Punches
Conversely, here are the 13 most prolific time-shares at running back:
1. Ryan Mathews/Mike Tolbert, Chargers
2. Joseph Addai/Donald Brown/Mike Hart, Colts
3. Beanie Wells/Ryan Williams/Tim Hightower, Cardinals
4. Ahmad Bradshaw/Brandon Jacobs, Giants
5. Jahvid Best/Mikel Leshoure, Lions
6. Pierre Thomas/Reggie Bush/Mark Ingram, Saints
7. Fred Jackson/C.J. Spiller, Bills
8. Felix Jones/DeMarco Murray/Tashard Choice, Cowboys
9. Ryan Grant/James Starks/Brandon Jackson, Packers
10. Marshawn Lynch/Justin Forsett, Seahawks
11. BenJarvus Green-Ellis/Danny Woodhead/Stevan Ridley, Patriots
12. Ryan Torain/Roy Helu/Evan Royster, Redskins
13. Knowshon Moreno/Correll Buckhalter, Broncos
Q&A Session
My new friend Parker asks: Jay, why the hate for Oakland's Zach Miller in a pre-lockout TE Ranking?
Answer: Miller had seven games of three catches or less last year ... from a stats perspective, Miller had only five elite games for tight ends. Besides, I don't look at 16th as "hating" on the guy.
Parker follow-up: But 16th is pretty low for a guy a lot of people would have in the top 10. I know that if I can get him in the last round of a 12-team league I am going to be very happy. He may have struggled last year, but the opinions I have seen is that a lot of that was due to a foot injury and his late season production spike may indicate that his chemistry with Jason Campbell improved. Also, his UFA status could pair him with a better QB compliment/less run heavy scheme. Finally, as the Raiders best receiver last season he was getting a lot of defensive attention, but given that the Raiders WRs are improving, I get the feeling he may be open more this season.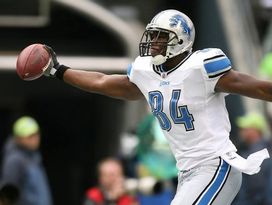 As of the current moment, Clemons ranks Pettigrew higher than Graham.
My retort:: But you wouldn't get Zach Miller in the last round of a draft. In 12-team leagues, usually half the teams will add a second tight end to the mix ... and as you said, some guys have Miller pegged higher than 16th at the position. Bottom line: If you can choose among Miller, Visante Shiancoe, Dustin Keller or Jimmy Graham as your TE1 in the last round of a draft ... your team is undoubtedly rock-solid from head to toe.
Jonathan Osato wonders: What's your tight end opinion on Jimmy Graham vs. Brandon Pettigrew?
Answer: For PPR leagues, it's Pettigrew over Graham in a blowout ... in standard leagues, though, Pettigrew only wins by a comfortable margin. Although, to be fair, Pettigrew posted mediocre numbers in the three games Matthew Stafford started last year (6 catches for 32 yards). And Graham, for those who appreciate strong finishers, racked up four touchdowns in his final three games last year.
Passing Fancy
With the lockout still looming, it'd be quite foolish to speculate on the starting quarterbacks for every team. But let's give it a shot anyway ... with the fantasy-QB rankings for starters only, 1 through 32.
1. Aaron Rodgers, Packers
2. Drew Brees, Saints
3. Tom Brady, Patriots
4. Peyton Manning, Colts
5. Michael Vick, Eagles
6. Philip Rivers, Chargers
7. Ben Roethlisberger, Steelers
8. Matt Schaub, Texans
9. Tony Romo, Cowboys
10. Matt Ryan, Falcons
11. Josh Freeman, Buccaneers
12. Joe Flacco, Ravens
13. Jay Cutler, Bears
14. Matthew Stafford, Lions
15. Eli Manning, Giants
16. Mark Sanchez, Jets
17. Matt Cassel, Chiefs
18. Kevin Kolb, Cardinals (minor assumption on my part)
19. Ryan Fitzpatrick, Bills
20. Sam Bradford, Rams
21. David Garrard, Jaguars
22. Alex Smith, 49ers (reasonable assumption on my part)
23. Chad Henne, Dolphins
24. Matt Hasselbeck, Titans (interesting assumption on my part)
25. Jason Campbell, Raiders
26. Carson Palmer, Seahawks (major assumption on my part)
27. Tim Tebow, Broncos
28. Colt McCoy, Browns
29. Andy Dalton, Bengals
30. Christian Ponder, Vikings
31. Cam Newton, Panthers
32. Rex Grossman, Redskins (pointless assumption on my part)
Sam Bradford & Binary Code
Fantasy gurus everywhere are probably frothing over the union of Bradford (3,512 passing yards, 18 TDs as a rookie) and offensive coordinator Josh McDaniels, but this is a gentle reminder that Bradford still needs more seasoning before cracking the top-15 rankings -- especially during a lockout-ravaged summer.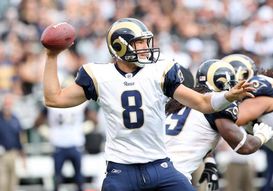 ICONWill Sam Bradford take the next step in 2011?
*Bradford failed to throw a touchdown in five games last year.
*Bradford tallied 1 or 2 TD passes in 11 games.
*Bradford threw only one touchdown and six interceptions in his final five starts.
*After Detroit demolished St. Louis 44-6 in October, the Rams consciously transformed from a pass-happy club (40.6 passes per game in Weeks 1-5) to a run-oriented group (26 passes per game in Weeks 6-16).
*It's reasonable to believe the Rams will finally acquire an above-average backup tailback to Steven Jackson this year, alleviating some of Bradford's pressure to succeed.
Choose Your Quarterback
Bradford may have been a fantasy dud in large chunks last year ... but how does he compare to a quarterback of a similar preseason ranking? Here's a week-to-week breakdown of Bradford vs. Buffalo's