March 23, 2011 -
National Football Post
Georgia pro day breakdown
What I learned and reaffirmed on some of Georgia's top prospects…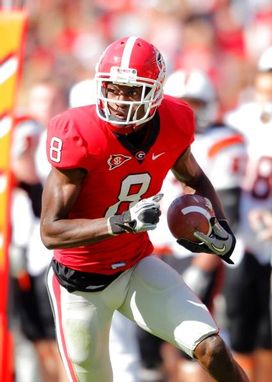 ICONGreen is still my top prospect in the 2011 NFL draft.
WR A.J. Green (6-4, 211)
Say what you want about the size/speed ratio of Alabama wideout Julio Jones, but I still think Green is the better overall prospect and will end up being the better NFL receiver. I have never seen a guy at his size look as fluid and balanced as a route runner when asked to get out of sharply breaking routes as Green. He's very patient stemming his routes off the line, making every one look the same initially. He's coordinated when asked to change directions and isn't forced to gear down, displaying a real burst out of his breaks. Now, there is some slight wasted motion, especially on the deep out. However, with his impressive fluidity for his size, that can easily be cleaned up with some development. The guy has an elite radius when asked to go up and get the football and possesses some of the softer hands in the class.
And as our own Matt Bowen broke down earlier in the week, the former Georgia standout can also get off press quickly and consistently adjusts well to the football vertically down the field. Overall, after watching his workout, I still don't have any reservations about keeping him as my top overall prospect in the draft.
DE Justin Houston (6-3, 270)
And yes, I purposely left off OLB as the position for Houston at the next level because in all honestly I think he's much better suited to play with his hand on the ground. He's a gifted linear athlete who at his size ran in the 4.6 range and displays an impressive get off burst as a pass rusher. However, he's a tight-hipped kid who really looked awkward again during linebacker drills Tuesday, struggling to cleanly open up his hips, keep his footing and close on the football. Ideally, I think Houston is just better suited to play with his hand on the ground and in year one might be nothing more than a nickel rusher as he learns his trade. He doesn't have a great pass rush arsenal at this stage either and I question his ability to change directions as a pass rusher off a counter. Overall, he's a gifted linear athlete, but I don't think he's quite the prospect his size/speed numbers indicate.
OL Clint Boling: (6-5, 308)
Boling is a prospect who just keeps wearing on me. He possesses the versatility to play all over the line of scrimmage, was balanced and pretty fluid during position drills and has the ability to bend. He did look more natural and rangy reaching speed off the edge as a left tackle than right. But the guy can sink his hips and has the skill set to consistently gain leverage at the point in the run game. He's a potential starting caliber lineman in my mind and is a better fit in more of a zone scheme to me.
WR Kris Durham (6-5, 214)
I can't think of a worse guy to follow during a positional workout as a receiver than A.J. Green. However, Durham did more than hold his own. He's not nearly as sudden, balanced or clean out of his breaks. But he did a nice job adjusting to the football, coming down with the catch and his sub-4.5 40-time could give him a shot at getting drafted late. Reminds me a bit of former Redskins wideout Chris Doering and even if Durham doesn't get drafted he should have a legit chance of filling out a receiving corps.