February 16, 2012 -
National Football Post
Georgia TE Orson Charles: Aaron Hernandez part II?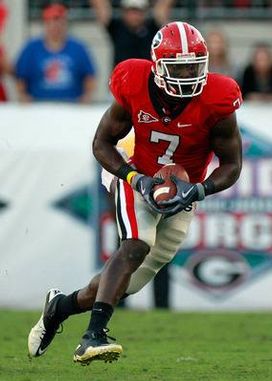 ICONCharles is a dynamic athlete who can create after the catch.
TE Orson Charles: Georgia (6-3, 241)
Looks like a yoked up, physically put together wide out with a strong set of arms. Is a natural bender who can sit into his stance when playing from a three-point stance. Fires off the ball well and does a great job with his short area quickness and has the length to side step the bump and cleanly getting into his route. Consistently is able to side step linebackers, get up to speed and get down the field. Showcases a great first step into his route, gets up to speed quickly and has the type of straight-line speed to consistently threaten the seem vertically. Plays like a high 4.5/low 4.6 guy and has the type of second gear to simply run away from defenders down the field or on crossers. Will line up in the slot as well at times, improved his footwork off the line as a junior, not wasting as much motion and getting into his route quickly at speed.
Isn't the cleanliest of route runners at this stage. Tends to prematurely try to get out of his breaks down the field at times on the post and corner, and is slow to get his head around consistently. Possesses inconsistent hands. Showcases the ability to extend and pluck off his frame. But tends to short arm throws at times and isn't the most soft handed of receivers. Will let the ball get into his body at times underneath as well. Showcases the foot quickness and fluidity to develop into a cleaner route runner; however at this time will gear down a bit at times out of his breaks and will round off his routes. Nevertheless can create a burst once he gets his feet under him.
Showcases the ability to sit into his stance as a blocker, fire off the ball low and extend his arms into contact. Displays good foot quickness and balance to get around blocks and seal. However, lacks ideal power into contact. Demonstrates a slight punch at times, but lack the natural power in his lower half to create a consistent push on contact. Demonstrates the ability to get around defenders and seal, but more of an seal guy only. Does have experience lining up in the backfield as an H-back/lead guy. Takes average angles into the open field and has only average power on contact. Showcases the ability to bend and keep his balance in pass protection. However struggles, to stick through contact, move his feet well when trying to mirror, and too often gives up a soft corner.
Impression: A gifted athlete who can create a lot of mismatches in the pass game. Should be able to improve as a route runner as well. Not quite as polished as Aaron Hernandez as an H-back coming out, but could end up playing a similar type role.
Follow me on twitter: @WesBunting
Check out the NFP Draft page here...