June 18, 2014 -
Greg Gabriel
Ground game
The running back position has always been, and always will be, an important part of any NFL offense, until draft day. Then, the position becomes an afterthought. The past two drafts have passed without a running back being selected in the first round. In the veteran free agent market, the position has been devalued, with no running back getting even close to the contracts we saw a few years ago. The reasons are many, one being that most clubs have gone to a rotational system with their running backs. Yes, there still is a main back, but more often than not, clubs use at least two, sometimes three, running backs in every game.
Another reason is that, as a whole, running backs have a short shelf life in the NFL. While some are productive for five or six years, there are many who have lost something after about four years in the league. With that being known, general managers just aren't going to give a huge contract to a running back unless he is very special. There are very few special running backs in the NFL.
When it comes to the draft, the same reasoning applies. Unless a running back has some very special traits, a club isn't going to use a first round pick on one. There hasn't been a back that has had that "something special" in the last two years. You could find faults with each and every back that was highly rated.
Looking at the seniors in next year's draft, there isn't a back with special qualities. There are a few that are good college backs and thrive within their system, but they are not special.
Nebraska's Ameer Abdullah ran for over 1600 yards last year and has caught more than 50 passes the last two seasons, but he is tiny at about 5091 – 190.
Karlos Williams from Florida State has size and speed, but he couldn't beat out Devonta Freeman last year. Freeman went in the fourth round in this year's draft to the Atlanta Falcons.
The name that draft analysts keeps saying is the best back in next year's draft is Georgia's Todd Gurley. Gurley will be a junior this fall and ran for 989 years on 165 carries last year. He also caught 37 passes for 441 yards. He had a total of 16 touchdowns in 2013. Gurley has size (listed at being 6010 – 232) and was a track star in high school. He reportedly ran a 10.7 for the 100 meters in 2011. He was also quite a bit smaller than 232 pounds when he ran that speed.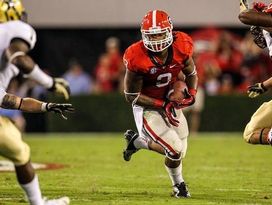 US PRESSWIREDoes Todd Gurley have first round potential?
I watched four tapes of Gurley yesterday, and while he is good, I don't see special. He plays from a tall two-point stance with good, not great, initial quickness. He has a false step at times, but for the most part, his initial quickness is good. As an inside runner, he is too tall and exposes his body too much. While he has very good vision and instincts and makes good decisions, his high pad level does not allow him to get the tough inside yards on a consistent basis. There were times where he was asked to get the tough short yards on third and fourth down and he couldn't get it done.
He does run with power, but more so when underway, not inside, between the tackles. When in space, he can consistently get yards after contact and can be difficult to tackle. Though he still runs tall, he has the size and power to break tackles, especially if the tackler is a defensive back or a smaller linebacker.
Though he is tall, Gurley is a quick cutter who can make a cut in the hole. He has very good balance and can change direction at full speed. I would not call him overly elusive, but he can easily make the first man miss in space.
While he gets a number of long runs, on the tape I viewed, there were huge holes on those runs, it wasn't by his own doing. Gurley has good play speed, but not great speed. He plays to about a 4.58 time. There are times when you see defensive backs gain on him or catch him. He does not have breakaway type speed.
In the passing game, Gurley is used on short routes and checkdowns. He has soft hands and does a very good job adjusting to the ball. As a blocker, he is willing, but he needs to position himself and use his hands better.
Gurley is a good back and is a great fit for the Georgia system. At this time, I don't see a player who is special and worthy of first round consideration. He is more of a second-to-third round type at this time. He can obviously improve on his weaknesses and have a strong 2014 season. If that happens and he decides to enter the 2015 draft we will of course re-evaluate Gurley on his 2014 play.
Follow Greg on Twitter @greggabe