December 10, 2011 -
Barry Dorey
HBCU All Star Bowl Preview
Background…
The HBCU All Star Bowl is entering its third year and will invite the top-120 draft eligible seniors from the major HBCU Football Conferences (MEAC, SWAC, SIAC and CIAA). The bowl week kickoffs with a one-day Official Combine administered by National Football Scouting followed by a week of practice and then the official game next Saturday.
Last year three players from the HBCU game where drafted in the 2011 NFL Draft (OT Johnny Culbreath- Detroit Lions, DL Frank Kearse- Miami Dolphins and CB Curtis Holcomb- San Francisco 49ers.) Also a record 35 players signed as free agents after the draft with a number of them now on active NFL rosters.
Therefore, here is a look at some of the top prospects the NFP will be keying in on this upcoming week in Atlanta.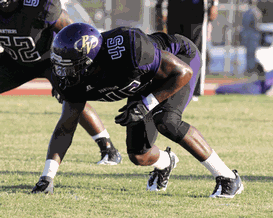 ICONHamilton is as productive as they come.
DE Adrian Hamilton: Prairie View (6-4, 255)
A pass rushing specialist who finished the 2011 season with 20.5 sacks, one of only three players in NCAA history reach the 20+ sack mark (Chris Gocong and Robert Mathis being the other two). The biggest question with Hamilton right now is finding out how fast this guy can run at the Combine Monday evening. If he can run well (in the 4.7 range) Hamilton has a chance to be one of the real winners to come out of this game.
SS Joseph Wylie: Tennessee State (6-3, 215)
A former Miami transfer who has a big frame, long arms and showcases some natural movement skills to his game. However, at his size it will be interesting to see how well he changes directions and if he can quickly get back up to speed in the deep half vs. the jump in competition.
WR Derrick Hector: Morehouse (6-6, 220)<br /> At 6-6, 220-pounds the size alone is enough to get Hector noticed. However, with only 46-catches this year and 648-yards his production isn't elite. Therefore, how fast can this guy run? Because if he can run well at his size, like any size/speed athlete, he's got a chance to get an invite to an NFL camp.
OL Jarvis Canty: Morehouse (6-7, 335)
I love these "size" offensive line prospects that come from the HBCU game ever year because they're always raw, but have some natural talent and can improve very quickly with good coaching. Canty has an NFL frame, but I'll be watching to see how he handles to jump in competition to determine if he's worth a look at the next level.
DL Charles Deas: Shaw (6-6, 310)
Deas has the size and overall length to intrigue as a potential five-technique. He's a tough guy to move, but showcasing the athleticism to shed and the pad level to gain leverage will be key if he hopes to give himself a chance of being anything more than a "size free agent."
OLB Nigel Carr: Alabama State (6-1, 228)
Carr is former four-star recruit who saw playing time immediately at Florida State as a freshman. However, he transferred to Alabama State after being arrested on multiple felony chargers in 2010 and played in only four games this past year. Nevertheless, he's a talented kid whose athleticism should stick out this upcoming week on the field.
DE Ryan Davis: Bethune-Cookman (6-4, 260)
Davis is the reigning MEAC defensive player of the year where he finished the season with 12.0 sacks and 21.5 tackles for lose. He's a natural pass rusher with a physically built frame and should get looks from both a two and three point stance this week.
Follow me on twitter: @WesBunting
Check out the NFP Draft Page here...