December 13, 2011 -
Barry Dorey
HBCU All-Star Bowl 40-times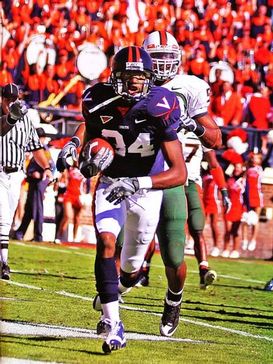 ICONGreen is a UVA transfer.
• Morgan State tight end Lamont Bryant was one of the few guys on the East roster to run well, timing in the low 4.5 range. He's a leaner tight end at 6-4, 221, but showcased good speed and could get some looks as a potential H-back/big slot at the next level.

• Another wideout who stood out was Southern's LaQuinton Evans. He was timed anywhere from the high 4.4's to the mid 4.5's and certainly proved he has the speed to play at the next level.

• WR Jared Green (son of Hall of Famer Darrell Green) ran in the low 4.4 range at nearly 6-1 and 188 pounds. He's a former Virginia transfer who has the ability to reach top-end speed quickly and could be the most intriguing vertical threat to come out of the game.

• Prairie View DE Adrian Hamilton has done nothing but help his stock so far this week. He honestly didn't look real natural running his 40, but he still timed in the low/mid 4.7 range. Therefore, with improved technique during the postseason, I wouldn't be shocked at all to see him run in the 4.6 range.

• Another pass rusher who looked explosive was Donavan Robinson from Jackson State. The 6-2, 229-pound pass rusher ran in the 4.6 range and when you add in his physical statue, his production and ability to run, it makes him one of the more attractive prospects down here.

• Finally, Shaw defensive lineman Charles Deas ran in the sub-5.3 range at 6-3, 316 pounds. He's another guy who has the size, length and overall athletic ability to be one of the real winners from this year's HBCU game.

Follow me on twitter: @WesBunting
Check out the NFP Draft Page here...