December 14, 2011 -
Barry Dorey
HBCU Bowl Practice Report: Day 1
There are only a handful of prospects down here in Atlanta this week with a legitimate chance of making a future NFL roster. Therefore, after the first day of practice here are five guys who we think are on the right track.

Day one practice notes…

• Morehouse offensive tackle Jarvis Canty certainly looks the part. He's a 6-5, 340-pound kid with a long set of arms, thick base and was natural in pass protection Tuesday. He proved he can keep his base under him when sitting into his stance, stay balanced with decent range toward the edge and does a nice job unleashing a quick/compact punch into contact as a pass blocker. He doesn't look real natural in the run game at this stage as he too often has a tendency to get overextended into contact and buckle over at the waist, limiting his ability to gain leverage. But it's an attribute that is correctable with coaching.

Overall, he's one of the few lineman from this group with an NFL caliber physical skill set and when you add in the athletic talent that he's displayed so far this week, Canty looks like a guy who could end up getting a look late and at worst warrant a priority free agent grade as a developmental practice squad guy.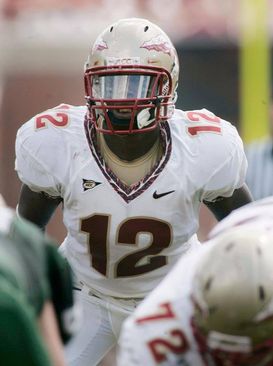 ICONCarr is trying to repair his image.
• Delano Johnson from Bowie State was one of the real winners at the weigh-in Monday night displaying his impressive 6-4, 267-pound frame. However, he followed it up with a strong performance Tuesday displaying impressive change of directions skills for a big guy when rushing from two-point stance. He worked a sudden counter off his outside rush and cleanly sidestepped the blocker inside. On his next pass-rushing attempt he displayed a strong jolt on contact, extended his arms well and simply overpowered the tackle before using his length to violently shed.

He did struggle when asked to play with his hand on the ground however, as the overall comfort level playing from a three point stance simply isn't there yet. However, he's got the frame to play with his hand on the ground and with some coaching he could certainly develop. Either way, I loved his passion. The guy seemed into it all practice, was vocal, played with a good motor and is making the most of his opportunity so far.

• I talked about Morgan State TE Lamont Bryant yesterday as one of the "winners" from the HBCU Combine. And for a big 6-4, 221-pound threat the guy did a nice job all day extending his arms, contorting his body and adjusting to some off target throws. For a bigger receiver he does do a nice job dropping his pad level and coming up with lower throws, while also looking natural extending his arms and using his big frame to come down with some catches off his body as well.

Now, he's a linear kid who looks more like a vertical route runner only and is going to struggle to get out of his breaks and separate on sharply breaking routes underneath at the next level. However, as a size/speed prospect, he's certainly worth a look late and worst case makes for an intriguing developmental type free agent.

• Langston corner Antonio Dennard is proving that the jump from the NAIA level isn't much of a problem. Despite not running a 40Tuesday, he showcased good fluidity in the hips when asked to turn, was natural sitting into his drop and demonstrated the quickness to cleanly re-direct, change directions and generate burst for himself.

He gave up a completion on an short out pattern later in practice not feeling his cushion properly and giving up a bit too much room under him. However, as he continues to get more comfortable vs. the jump in level he could end up getting a look as a potential later round guy, depending on how well he runs at his pro day.

• Finally, former Florida State linebacker Nigel Carr was doing his best to repair his image Tuesday afternoon with his overall vocal leadership on the field. He was one of the few guys not overwhelmed with the coaching and seemed willing to help his teammates out, acting like an extension of the coaching staff on the field.

Now, the character concerns are never going to go away and he also weighed in at only 6-1, 214-pounds, which is a major concern for a linebacker. Therefore he needs to prove that he not only can add weight, but also maintain his 4.6 speed and keep himself clean off the field. So the cards are certainly stacked against him. But the natural athleticism is still there and after watching his effort Tuesday afternoon he at least seems to be worth a look as a free agent to bring into someone's camp if he can add the necessary weight.
Follow me on twitter: @WesBunting
Check out the NFP Draft Page here...