December 14, 2011 -
Barry Dorey
HBCU Bowl Practice Report: Day 2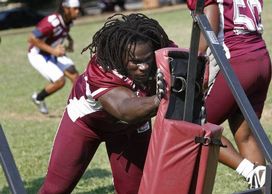 ICONDeas has been a tough block all week.
Shaw defensive lineman Charles Deas continues to impress. He showcased an good combination of size, length and power vs. both the run and pass game and has the talent to simply overwhelm inside. However, he's not just a body, Deas also possesses a solid first step for his size, can bend, keep his back flat through contact and gain leverage. Against the run he does a nice job knifing his way inside and holding up vs. the double and he can either overwhelm or cross the face of blockers in the pass game.

Now, he still has a tendency to get upright at times through contact off the ball and his arms/hands will get wild when trying to shed. Nevertheless, he's got the size and overall talent to warrant a draftbale grade in a weak defensive tackle class and in my view is the best prospect on the East roster.

Just a notch below…

Of all the East pass rushers, Bethune-Cookman defensive end Ryan Davis is the one guy who has the initial burst to threaten the edge as well as the suddenness/coordination to work a counter and cleanly slip tackles on the edge. Plus, the guy has a good motor, his feet never stop moving and he looks natural working a counter if his initial rush stalls out. Now, he's still undersized, lacks ideal power and will get engulfed vs. bigger tackles. However, if he runs well, he looks like a guy who should certainly warrant a priority free agent grade and get a chance to develop on the practice squad.

The overall physical make-up of Bowie State LB Delano Johnson alone could get him a shot in an NFL camp. He can be powerful on contact, sudden when asked to counter and has enough of a first step to at least threaten off the edge from a two-point stance. Now, he needs a lot of work, as he will get overextended into plays and isn't as natural as Davis when his initial rush is stalled out. However, at his size he's one of the few guys down here who meets the height/weight/speed benchmarks.

Cornerback Antonio Dennard again did some things today that impressed. He's a patient corner with quick feet, keeps his base down and exhibits natural fluidity in the hips. He also did a nice job in press coverage being patient off the line, cleanly turning and running and re-routing his man with the proper hand. However, questions about his top end speed and overall feel in zone concepts are both concerns, making him nothing more than an "athlete free agent."

Did some things well…

The one offensive lineman that has caught my attention the past two days on the East roster is Bethune-Cookman center Natiel Curry. He's a 6-1, 303-pound lineman with good initial quickness who can bend and gain leverage. Now, he's still raw and had a tough time moving the bigger lineman off the ball in the run game. However, he slid well laterally in pass protection, could keep his base down and displayed enough athleticism to warrant at least a look in an NFL camp.

Finally, DE Zary Stewart from Morgan State had a solid practice as well. He's a long, broad kid with a frame that he can continue to grow into and get bigger. He displayed a slightly above-average get off burst with the short area quickness and balance to change directions and use his length to keep himself clean in both the run and pass game. Also, he had a good nose for the football during 11 on 11 drills and has done enough to warrant a spot in camp to see if he can continue to grow into his 6-4, 240-pound frame.
Follow me on twitter: @WesBunting
Check out the NFP Draft Page here...