December 15, 2011 -
Barry Dorey
HBCU Bowl Practice Report: Day 3
Standout on the D-line

Morehouse DL Chigbo Anunoby had a very impressive performance Wednesday afternoon. The 6-4, 324-pound lineman was an absolute bear to move inside vs. the run. He fired off the football low, showcased natural anchor strength and the type of power/balance to extend his arms and fend off blocks inside. However, even more impressive was his overall ball awareness. The guy consistently was flowing toward the action and really did a nice job locating the ball quickly. As a pass rusher he also displayed a little more short-area quickness than you would expect for a guy his size, doing a nice job a couple times working an arm over and side stepping a block off the ball, while also pushing the pocket as a bull rusher.

Now, he's never going to be a "plus" pass rusher in the NFL. However, he's a strong, long kid with a really well-proportioned frame who can anchor inside and certainly has the talent to get plenty of looks from both 34 and 43 teams as a developmental big body.
Southern Receivers Standout…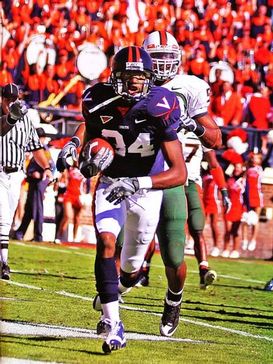 ICONGreen just needs to do a better job catching the football more consistently.
LaQuinton Evans (6-1, 198)
Evans, in my mind, was the most impressive performer down here this week. He's a taller wideout with a solid build, ran in the high 4.4/low 4.5 range and showcased good short-area quickness off the line. He displayed a nice combination of balance, lateral suddenness and power when asked to beat press and was one of the few receivers down here who generated a burst out of his breaks and could quickly separate. He exhibited a natural feel as a route runner as well setting up defenders on sharply breaking routes underneath with the vertical ability to also be a threat down the field. He plucked the ball well off his frame and despite not being the most physical guy when playing with a corner on his hip, he still separated consistently and looked like a guy who could make an NFL roster and contribute to a team as a sub package option.

Jared Green (6-1, 188)
Green looked like the most explosive vertical threat down here this week. He consistently was able to get behind defenders, run away from man coverage and tracked the football vertically. He has a natural feel of setting up corners off the line as well, side stepping press coverage and accelerating into his route. He showcased good balance and quickness as a route runner and despite at times getting a bit choppy with his footwork on sharply breaking routes, he generated good first-step quickness and routinely could separate and run away from defenders.

Honestly, the only major concern I have about the guy is his overall ability to catch the football. He looks natural adjusting to throws and his body control is good when looking to pluck off his frame. However, too often he simply puts the ball on the ground. Nevertheless, he's got good size, he can run/separate and has a good pedigree, which could end up getting him a look late as a draftbale receiver prospect.

Sleeper alert

Former Arizona transfer DT Jonathan Hollins was a stud at Texas Southern in 2010. However, he struggled through 2011 due to a calf injury and really had a down senior season. Nevertheless, he flashed today showcasing a solid get off burst, good leverage and displayed some natural anchor strength inside. He has had the suddenness to shed and make plays on the football in the run game at 6-2, 309 pounds. Therefore, from a physical and athletic standpoint in my mind he warrants at worst a spot as a free agent and potential developmental wide body practice squad type guy.
Follow me on twitter: @WesBunting
Check out the NFP Scouting Department here...