January 07, 2012 -
National Football Post
How does Arizona State QB Brock Osweiler stack up?
Breaking down the game and assigning a grade to Arizona State QB Brock Osweiler…
What I like…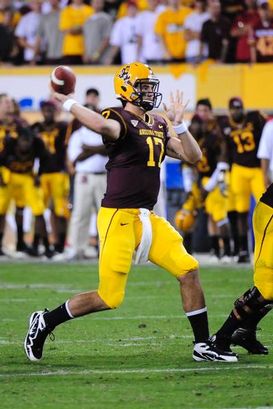 ICONOsweiler can spin the football.
- Possesses a tall, long frame and doesn't have any trouble seeing over the line of scrimmage.
- Exhibits a high release point and is never going to see many passes batted down at the line of scrimmage.
- Is a sneaky athlete when asked to create outside the pocket for his size. Even ran some read option earlier in the year.
- Can be a threat to find the first down marker with his legs. Can work his way around the pocket with some goofy athleticism and keep drives alive with his legs.
- Keeps a wide throwing base in the pocket and generates good torque from his lower half.
- Is a quarterback who can transfer his weight well off his back foot and because of his wide base isn't a guy who needs to step up into throws consistently.
- When he sees the pocket open up, does a nice job keeping his knees bent and stepping up into the pocket in order to throw.
- Possesses big hands, can grip the football and cleanly spin it outside the numbers.
- Showcases good arm strength with the ability to make all the throws.
- Exhibits good velocity working the intermediate pass game and showcases the ability to throw in rhythm down the seam.
- Demonstrates natural touch down the field on bucket throws and when his feet are set he can put the football in a spot where only his receiver can make a play.
- Is at his best throwing to still targets underneath, receivers who find soft spots in coverage and sit down.
- Showcases a passion for the game with the natural leadership qualities that his teammates seem to respect.
- Is a former basketball recruit at Gonzaga who still has a lot of upside to his game long term.
What I don't like…
- At 6-8, he's an overly tall quarterback prospect who has a lot of addition length and moving parts to his game.
- Looks lethargic with his footwork when asked to move around in the pocket and re-set his feet.
- Has a tough time keeping his footwork in rhythm and his ball placement really suffers underneath when asked to find a secondary target.
- Because of his natural size/length has a longer release and the ball takes a bit to come out of his hands.
- His release point is inconsistent as well, has a tendency to drop his elbow at times when he needs to get the ball out quickly or look vertically down the field.
- Doesn't have a great feel for the game, struggles pre-snap to recognize defenses.
- Doesn't do a great job anticipating where the blitz is coming from and identifying his hot man.
- Isn't overly natural vs. pressure, eye level has a tendency to go down quickly and he doesn't give himself much of a chance to find secondary options.
- When he does get flushed outside the pocket the speed of the game starts to speed up. Isn't real accurate when being chased and struggles with ball placement.
- Has a tough time with ball placement when trying to throw intermediate patterns on time to receivers in rhythm. There are a lot of moving parts to his release/footwork and struggles to be accurate.
- Tends to make his decisions on where he is going with the football pre-snap. Will force the football into tight windows and struggles to identify underneath coverages consistently.
- Gets happy feet and is very excitable when his initial target isn't on and he's forced to try to go through his progressions. Doesn't have a great feel for the offense at this stage.
- Was a guy who needed another year of school in order to better understand the offense and improve his ability to decipher defenses, both pre-snap and through the play.
- Works predominately from the gun and has a tough time settling his feet and balancing himself before the release point. Looks content to simply just skip backward into his drop, set and throw.
- Has only 15 starts to his name during his three year career at Arizona State
- Is 7-8 as a starter and never won consistently in the Pac-12 as a starter.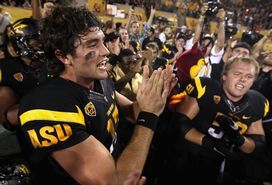 Osweiler showcases leadership qualities.
Overall:
Osweiler would have been much better served to stay for his senior year and develop his overall feel for the game. Because of as now he struggles to decipher defenses and honestly didn't display a great feel for his own offense either.
The guy has some talent and can sling the football. However, much like Ryan Mallett last season, he's going to need to play in an offense where he can throw the football down the field and isn't going to be forced to make many quick throws underneath, where he struggles with timing, footwork and ball placement.
If everything falls into place for Osweiler, meaning he develops as a quarterback mentally, has time to work at his trade and falls into a perfect fit for him physically (Steelers, Patriots, Raiders) he does have the talent to eventually fight for a starting job in the NFL. However, he rates much closer to a developmental later round pick and reminds me some of Cardinals QB John Skelton.
Follow me on twitter: @WesBunting
Check out the NFP Draft page here...