May 11, 2012 -
National Football Post
How high could FSU QB EJ Manuel go?
QB EJ Manuel: Florida State (6-5, 238)
What I like…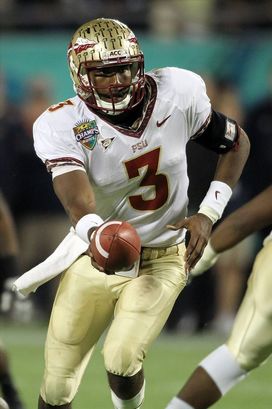 ICONManuel showcases good balance for his size.
- He's a great looking athlete with good height, a solid frame and natural strength.
- Showcases natural foot quickness for his size, isn't just a strider, has some wiggle and accelerates well when trying to run away from defenders.
- Can keep plays alive in the pocket because of his combination of size, strength and quickness. Will gut a defense with his running ability.
- Has the skill set to break some tackles in the open field.
- Looks natural in his drop both from under center, in the pistol and the gun, quickly gets away from line of scrimmage and balances himself into throws.
- Displays natural balance and knee bend in his base, transfers weight well from his back foot in order to generate velocity.
- Exhibits a "plus" arm, can make all the throws and really spin the football.
- When he knows where to go with the football looks natural getting the ball out on time, trusting his motion and being accurate with the throw both in the short and intermediate pass game.
- When he trusts his release on bucket throws, displays good touch and can drop the football with ease into his receivers.
- Exhibits natural body control and foot quickness when avoiding pressure and stepping up in the pocket, exhibits a good feel for bodies around him and can stay in balance through his lower half.
- Keeps the ball held high at all times and his release point comes out over his ear, will never have a tough time with passes being knocked down at the line of scrimmage.
- Is a combined 13-5 as a starter and guided FSU to a win in the Champs Sports Bowl in 2012.
- Has completed over 65% of his passes during his first three years at FSU.
- Tough and gritty, played the second half of the Champs Sports Bowl with a broken fibula and will play through pain.
What I didn't like…
- Doesn't have the quickest of releases because of his high, over the ear delivery.
- Has a tendency to fall off throws when he feels pressure, causing him to let go of the ball prematurely and struggle with accuracy.
- Needs to do a better job deciphering the blitz and understanding quickly where to go with the football.
- Has a tendency to drop eye level when he feels pressure and try to run himself out of jams, leaves too many yards on the field because he doesn't keep his eye level up consistently.
- Struggles to consistently go through his progressions. Reads mostly one side of the field only and fails to quickly recognize soft spots and find secondary targets.
- At times gets narrow and upright on touch passes on all levels of the field, causing him to miss long vertically too often.
- Will stare down initial reads on areas of the field where he needs to go with the football, allowing defenders to get early jumps on the play.
- Hasn't had that signature win yet vs. a ranked opponent. I still want to see him deliver in the clutch vs. a top-tier foe.
The Breakdown…
He's big, athletic, can make all the throws and is dripping with upside. From a physical standpoint there isn't anything EJ Manuel can't do. Plus, there's a natural feel to his game in the pocket as he showcases the ability to re-set his feet when buying time and avoid pressure.
Nevertheless, there needs to be some improvement to his game, mostly from the shoulders up. He needs to improve his feel for the offense, where to go with the football vs. pressure and understand the concepts of how to find secondary reads. These mental attributes tend to come with development and experience, and it will be interesting to see how much Manuel improves in this areas as a senior.</p>
As a talent only, he's a first round caliber prospect. However, as a quarterback only, I'd say he's more of a mid-round type player.
Therefore, with a strong year he's the kind of guy who could certainly force his way into the mid/early first round discussion as a potential franchise signal caller. But as of now he looks like an intriguing developmental second round type QB prospect who is going to need some time, as he's more of a potential/dirty starter only.