April 07, 2011 -
National Football Post
How Locker and Ponder could be first-round picks
The interesting dynamic that the Thursday night start time has added to the NFL Draft is that decision makers now have two separate occasions to reset their boards and pinpoint the prospects they want come Friday night and Saturday. However, it has also added to the willingness for these same decision makers to want to trade back into the end of round one, secure the guy they like and sleep soundly come Thursday night, without the worry of another team jumping them Friday and getting "their guy."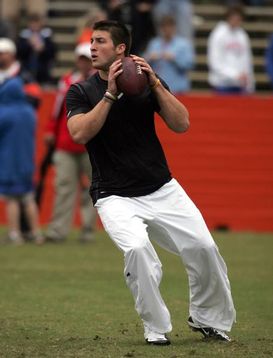 ICONDenver moved up to get Tebow last year.
Much like the Broncos did last year with Tim Tebow, there are a number of teams in need of a quarterback who could be eager to jump back into the first round in order to nab either Florida State's Christian Ponder or Washington's Jake Locker.
But before we identify the teams who could potentially move back into round one to grab a signal caller, it takes two to tango. Therefore, here's a list of teams I've identified in the back end of round one who could be willing to deal.
Baltimore Ravens: Pick 26
If there isn't a guy at 26 worthy of the pick, much like last year, don't be shocked to see the Ravens deal back.
Atlanta Falcons: Pick 27
The Falcons really don't have a ton of pressing needs, therefore reaching for a guy in round one doesn't make a ton of sense.
New England Patriots: Pick 28
The Patriots are as likely as any team to deal out and acquire more picks for future drafts; just look at the track record.
Chicago Bears: Pick 29
If there isn't an offensive or defensive lineman on the board of the Bears liking, moving back is a distinct possibility.
Now, onto teams who could potentially make the first round move in order to secure either Ponder or Locker…
Buffalo Bills: With the second pick in round two, the Bills wouldn't have to forfeit too much in order to go up and get their guy. Now, potentially trading back into round one all depends on what they do with their first overall pick, but if they elect to go pass rusher or DL early, Jake Locker has the skill set to make it work in Buffalo and is a lot safer investment than taking a QB at No. 3.
Cincinnati Bengals: Cincinnati can't go into the year without a replacement for Carson Palmer and if they decide against a QB in round one, moving up to add Locker or Ponder make sense, again without as much risk.
Arizona Cardinals: The Cardinals are never going to be contenders until they improve their play at quarterback. Again, QB is in play for them in round one. However, if they want to go best player available at five, they can still trade back into round one and get a potential franchise signal caller without the risk. Ponder seems like a nice fit in Arizona.
Tennessee Titans: With Tennessee still recovering from the Vince Young fiasco, looking for a high-character QB like Ponder or Locker without a top ten financial investment makes a lot of sense and fills a big need.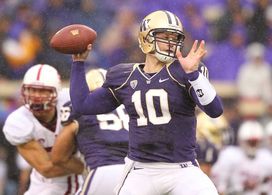 Locker makes a lot of sense in Washington.
Washington Redskins: I don't think anyone believes that Cam Newton or Blaine Gabbert will be in play for the Redskins at ten. Therefore, trading back into round one might be their best chance of getting a potential franchise quarterback without having to reach severely.
Minnesota Vikings: Minnesota is simply sitting too deep in round two to believe that either Ponder or Locker would fall to them considering so many teams picking early in round two need a quarterback. Moving up seems like their only real option if they want one of these top signal callers.
San Francisco 49ers: Much like the Vikings, San Fran is simply picking too far back in round two to hope one of these quarterbacks fall. Ponder seems like a great fit for Jim Harbaugh and the offense, but in my view, they are going to need to move up to get him.
Overall, it's a quarterback-starved league and finding a guy who can your lead franchise for the next decade is the key to success in the NFL. Therefore, despite the fact that there aren't too many places as of now at the back end of round one where Locker or Ponder could fall, keep your eyes on the teams picking early in round two.
Because with the number of teams in that group desperately in need of a quarterback, none of them are going to want to wait until Friday night and hope "their guy" falls into their lap. They're likely going to need to go up and get them in round one.