April 19, 2011 -
National Football Post
Ideal landing spots for each of the top QB prospects
A breakdown of where I see each of the top 2011 QB prospects having the best chance of success at the next level.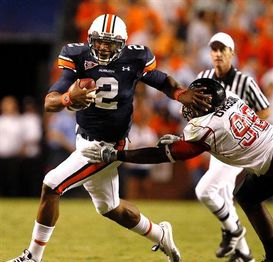 Newton makes the most sense in Buffalo.
Cam Newton: Auburn – Ideal Fit: Buffalo Bills
There are a number of reasons why I think Newton is a good fit for Buffalo, but it starts and ends with the fact that the Bills already have someone in place at QB with Ryan Fitzpatrick. In order for Newton to be successful he needs to be brought along slowly and have some kind of mentor willing to show him the ropes and allow him to develop under him. The Bills also have a creative mind heading the offense in head coach Chan Gailey, who knows how to use a unique talent like Newton and think outside the box, as opposed to trying to consistently force Newton to be strictly a drop back passer. Finally, in order to be successful in Buffalo you need to be able to cleanly spin the football and have a strong enough arm to make all the throws needed in cold/windy Buffalo, New York. Newton not only has the ability to do that, but he's also a gifted passer on the move and would instantly improve their offensive line as well because of his ability to create second lives. Overall, I still wouldn't take Newton in the first round, but I think Buffalo gives him the best chance of success.
<p>
Jake Locker: Washington- Ideal fit: Washington Redskins
What other offense in the NFL would allow Locker to play more so to his strength than the Redskins? Head coach Mike Shanahan loves to work off the boot action game, get his quarterback outside the pocket and allow him to throw on the move. The boot action would also simplify the game for a rookie quarterback with a high/low read — something Locker will need early — and give him a run/pass threat outside the pocket. Locker certainly has the tools to be successful but needs to be in an offense that brings him along slowly and allows him to play consistently to his strengths, which is throwing on the move and improvising outside the pocket.
Andy Dalton: TCU Ideal fit: Seattle Seahawks
The Seahawks are more of a ball control offense, quickly getting the football out on time and then working off the play action game to look for the big play. Dalton possesses an underrated arm, spins a clean football and knows how to quickly decipher information and get the ball out on time. I can see him consistently moving the chains in Seattle sticking the ball into small windows underneath, creating second lives with his legs while consistently keeping his eyes down the field and looking for that big play.
Christian Ponder: Florida State – Ideal fit: San Francisco 49ers
Ponder possesses the kind the demeanor I can see instantly meshing with new head coach Jim Harbaugh. He's the kind of kid you can grind on day in and day out, is accurate with the football and is mentally capable of handing a lot of volume early. Plus, he has experience coming from more of a pro-style system at Florida State, is comfortable from under center and can get his team in and out of a play. Ponder seems like the kind of underrated gym rat that Harbaugh could get the most out of in the NFL.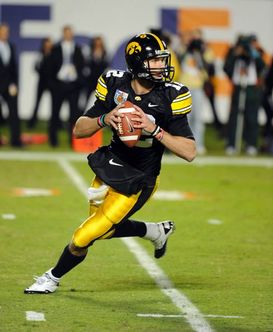 ICONStanzi taking over for Brady isn't a bad idea.
Ricky Stanzi: Iowa – Ideal fit: New England Patriots
Why not bring in the guy as the eventual successor to Tom Brady who has actually been compared to him as a prospect coming out of college? Stanzi is a winner. He's a tall, lean kid who still has some physical maturing to do. However, he's got a good feel in the pocket, knows how to work his way across the field and a case could be made that he's as NFL ready as any QB in the class. Plus, he comes from Iowa where head coach Kirk Ferentz and Bill Belichick have close ties. All in all Stanzi isn't a guy who can come in and win for you with from day one. However, if you give this guy a chance to learn under one of the best, he's the kind of guy who will soak everything in and when his number is called he'll be ready.
Colin Kaepernick: Nevada –Ideal Fit: Tennessee Titans
Kaepernick could end up being everything that Vince Young wasn't. He's not quite the same type of athlete, but he's a good one in his own right who can buy time and create the big play with his arm or legs on the move. However, unlike Young the guy is a natural team leader, he's a winner and is willing to put in the work in order to improve and get better. Much like Young though coming out, he's still a work in progress and is going to take some time in order to get accustomed to the NFL game. However, he's got the athletic ability to overcome some of his faults early and getting another run/pass threat who actually wants to get better at his trade and can handle the adversity that comes with being an NFL quarterback seems like a good fit for the Titans.
Blaine Gabbert: Missouri- Ideal fit: Cincinnati Bengals
Gabbert certainly has the talent to be a successful NFL quarterback, but he's going to need work. Therefore, the potential of working with a new offensive coordinator like Jay Gruden has me intrigued. Gruden is a former AFL player who has coached in the AFL and UFL, and has a track record of getting the most out of his signal caller. Gabbert would be as talented physically as any QB Gruden has worked with, but I feel like he's the kind of young, energetic personality that Gabbert would be more likely to thrive under through the ups and downs of being a rookie QB.
Ryan Mallett: Arkansas: Ideal Fit- Minnesota Vikings
If you need to protect a slow-footed quarterback with a running game, who better to be that guy than the NFL's best, Adrian Peterson? The Vikings have the best back in the game and we all know they are going to want to consistently run the football. Therefore, with that consistent threat, Mallett would have time to work off the play action game, scan the field and use that big arm to deliver his patented darts all over an opposing secondary. Seems like a good fit for the Arkansas gunslinger.