January 03, 2012 -
National Football Post
Illinois DE Whitney Mercilus declares for the NFL Draft
The Breakdown...

DE Whitney Mercilus: Illinois (6-4, 265)

What I like…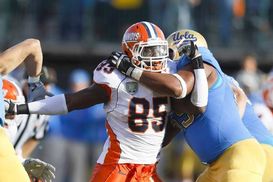 ICONMercilus has a good first step, but needs to play lower.
- Possesses a strong looking frame with good length and impressive musculature through his upper half.
- Exhibits a good first step for his size off the snap. Can keep his base under him initially off the football and threaten the edge.
- Showcases some savvy using his length and hands to keep himself clean on contact. Can be quick/compact with his club/swat on the outside in order to slip the block as a pass rusher.
- Showcases some savvy when looking to work the bull rush into contact and quickly use his length to slip toward the corner and try to close around the edge.
- Uses his length well to wrap on the ball carrier. Displays an impressive wingspan and uses his wingspan well to finish on the quarterback.
- Is a naturally strong kid who can overwhelm on contact as a bull rusher and despite not playing with consistent leverage, has good natural power on his leg drive through contact.
- Showcases a coordinated spin move once he gets to the edge and can work his way back inside if the tackle is overplaying him toward the edge.
- Is versatile enough to line-up inside as a three technique in pass rushing situations.
- Is very productive as a three-technique firing off the ball and shooting the C-gap, where he initially can keep his pad level down and use his combination of burst and power to fight his way up the field through contact.
- Showcases good range off his frame when closing from the backside in the run game.
- Was extremely productive as a pass rusher in 2011 finishing the season with 16 sacks.
- Possesses a passion for the game and always seems to be invested in the moment.
What I don't like…

- Has only one year of solid production, finishing the 2009 and 2010 season with only one sack a piece.
- Struggles with pad level through contact. Has a tendency to pop upright in the run game and struggles to disengage.
- Needs to do a better job extending his long arms into contact vs. the run game. Allows opposing blockers to get into his frame and stick to him through contact.
- Fails to keep himself clean and sit into his base at the point of attack vs. the run.
- Instincts and overall ball awareness vs. the run game are poor. Struggles to consistently find the football.
- Even when he does find the football looks too stiff in the lower half to consistently breakdown and doesn't play real quick in tight quarters vs. the run.
- Too often allows ball carriers to run right by him on the edge when unblocked, struggling to quickly find the football.
- Gives up leverage through contact and can be easily ridden past the play.
- Lacks ideal technique when looking to disengage through contact and too often tries to just manhandle his opponent.
- Looks tight as a pass rusher and despite his "plus" first step doesn't look natural trying to dip and rip around the edge.
- Too often is easily pushed past the pocket.
- Gets upright through contact as a bull rusher and vs. stronger tackles isn't going to be nearly as effective as a power player.
- Isn't real sudden laterally. More of a linear athlete who struggles to quickly change directions in order to slip blocks inside.
- Doesn't use his hands well to disengage through contact. Can eventually manhandle his opponent through the play, but gets upright and isn't real violent with his hands when engaged.

Impression: Physically he looks the part and has the talent level to simply manhandle college lineman at times. However, he's a raw kid who is stiffer in the hips and doesn't have a great feel for the game when asked to find the football. He's got some upside, but his tightness and overall lack of a natural feel for the game are two very big concerns for me that will keep him from being the type of big time pass rusher his freaky skill set says he could.

Grade: 6.4 T M
Follow me on twitter: @WesBunting
Check out the NFP Draft Page here...