March 09, 2011 -
National Football Post
Inside the NFL Combine
Editor's note: Mason Foster is a 6-2, 242-pound senior linebacker from the University of Washington who will be keeping a running journal for the National Football Post as he prepares for April's draft. This is his fourth entry.
I'm back from the Combine and it was awesome! I had the opportunity to compete head-to-head with the best players in the nation as well as interview with a variety of NFL head coaches and general managers. I know the workouts are the only aspect of the Combine that is televised, but that doesn't take place until the last day that you're in Indianapolis.
The first two days are all medical tests. You go through x-rays, scans, and physicals from every NFL team doctor. You also take the wonderlic and some psychological tests, and every night you have a number of interviews. There are informal interviews (where they blow a horn every 15 minutes and you move onto the next team) and then there are formal interviews in a private room with the general manager, head coach and position coach. Teams only get 60 of those, so it's an honor just to walk in the door.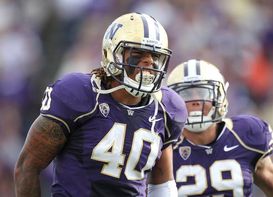 Mason's next challenge will be to impress the scouts at Washington's pro day.
I had about 15 formal interviews and that was probably my favorite part of the week. I'm a huge football fan, so it was pretty cool to be in there on the board talking football with all of the coaches and GM's that I see on TV every week. I felt like I did really well. We had great coaches at UW and in addition to playing all three linebacker positions in a 4-3, we also played a 3-4 package, so there was nothing that I wasn't prepared to discuss.
I was really happy with my workout as well. I was a little nervous, but mostly I was excited to compete with the best and to prove to everyone that I'm one of the top linebackers in this year's draft. My goal was to run in the 4.6 range on my forty and I nailed it on my first try. I also felt like I performed well in the position drills, which was important to me. All of the other drills have little, if anything, to do with football, so the position drills gave me the opportunity to do what I do best: showcase my football skills.
Another highlight of my week was getting to meet Carolina Panthers head coach Ron Rivera in the elevator at the hotel. I'm from Seaside, a small town in Northern California, and Coach Rivera is also from there. We actually went to the same high school (Seaside High)! He told me where in town he grew up, said that he read a real nice article about me and wished me luck with the week.
The day after I left Indy was my birthday, so I flew home to Seaside to see my family. It was a time to relax that included my grandpa making me my favorite home-cooked meal. It was great spending time with my parents and grandparents. I also got to watch a little of the Combine that day and I was impressed with Stephen Paea (DT, Oregon State) on the bench. He lifted 225 like it was a feather! Another Pac-10 guy!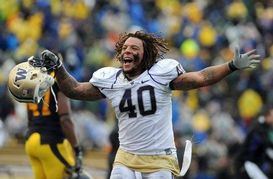 Now I'm back in Seattle getting ready for my Pro Day. Like I said, I love to compete, so I'll be doing everything at my Pro Day. I had a couple of linebacker coaches tell me that they're going to come to work me out as well, so I'm excited for that opportunity. I'm also getting ready to start back up with school in the spring. My parents have always stressed the importance of an education to me, and I actually like school, so it's important to me that I finish my degree this spring.
Overall, I feel like the Combine was a great success. My agent has talked to scouts from almost every team this week and they all told him that I really helped myself with my performance. He said one AFC linebacker coach told him that I reminded them of Derrick Brooks when he came out of college. Brooks was one of the best and a guy I admired growing up, so that was a humbling compliment.
I'm happy with my performance at the Combine, but I'm not satisfied. After the Senior Bowl I geared up for the Combine and now it's time to get ready for my Pro Day. Gotta keep climbing up those draft boards!
-Mason
CLICK HERE to check out Mason's previous journal entry.
CLICK HERE to check out Mason's facebook fan page.
CLICK HERE to check out Mason's website.
Follow Mason on Twitter: @Mason_Foster