March 06, 2012 -
National Football Post
Inside the NFL Draft: Bears team needs
The Chicago Bears and new GM Phil Emery will use the 2012 NFL Draft to fills holes on both sides of the ball and to address needs at key positions. With QB Jay Cutler still in search of a No.1 threat outside of the numbers and a vacant spot opposite Julius Peppers along the D-Line, let's check out the Bears draft priorities and the prospects that fit in Chicago.
CHICAGO BEARS
2011 RECORD: 8-8
FIRST ROUND DRAFT POSITION: NO.19
TOP PRIOIRTY: WR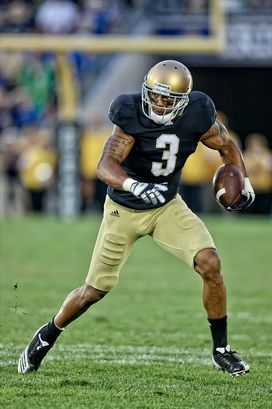 ICONNotre Dame's Michael Floyd.
Michael Floyd WR, Notre Dame: Didn't seem quite as dynamic as a receiver when he bulked up in 2010. However, has looked sudden, explosive and showcased the ability to separate quickly and create after the catch as a senior. Is one of the draft's top receiving prospects.
Mohamed Sanu WR, Rutgers: Physically reminds us some of Hakeem Nicks. Isn't as NFL ready, but can go get the football, breakdown and separate on all levels of the field. Looks like a future NFL starter who might need some time, but the talent is most definitely there.
SECONDARY PRIORITY: DE
Whitney Mercilus DE, Illinois: Physically he looks the part and has the skill to simply man handle college lineman at times. However, he's a raw kid who is stiff in the hips and doesn't have a great feel for the game when asked to find the football. He's got some upside, but his tightness and overall lack of natural feel for the game are two very big concerns that will keep him from being the type of pass rusher his freaky skill set says he could.
Cam Johnson DE, Virginia: A solid college defensive end who has never been much of a sack artist but there are some tools there. Showcases some fluidity in his drop and in coverage and has the ability to mature into a more sudden pass rusher. Will get looks in both a 34 and 43 front.
MID TIER PRIORITY: OT, CB
Nate Potter OT, Boise State: Potter is a poor man's version of former Boston College LT Anthony Castonzo, as he has the talent to earn a starting job in more of a zone scheme, but is going to need a year or two before he's ready physically to mature into the player he's capable of becoming.

Zebrie Sanders OT, Florida State: A natural athlete who can bend and is athletic. However, struggles with power and makes too many lineman look like good pass rushers toward the edge because of it. Needs to get stronger to have a chance.
Trumaine Johnson CB, Montana: A talented kid who physically/athletic reminds me a lot of Jimmy Smith (Baltimore Ravens). Now, he's not as experienced as a pressman as Smith was, but has the same type of upside and can be a similar player if he commits himself fully to the game at the next.
Donnie Fletcher CB, Boston College: Possesses good size, ball skills and has a natural feel in coverage. Gets a bit leggy, but can sink his hips and get out of his breaks. Looks like an ideal cover two type corner at the next level with some man-to-man upside.
Click here to see the NFP Big Board
Follow the NFP on Twitter: @FootballPost