April 15, 2012 -
National Football Post
Inside the NFL Draft: Bengals team needs
Click here for our previous draft reports
With the Bengals owning two first round picks in the upcoming NFL Draft, the club can look to make some upgrades to the defensive secondary. Here is our list of prospects that best fit the roster in Cincinnati—starting with the CB position.
CINCINNATI BENGALS
2011 RECORD: 9-7
FIRST ROUND POSITION: NO.17, NO.21
TOP PRIORITY: CB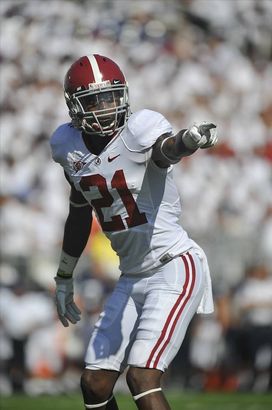 ICONAlabama CB Dre Kirkpatrick.
Dre Kirkpatrick CB, Alabama: Will be an ideal zone corner at the next level because of his size, instincts and physicality. However, he can also press off the line and consistently re-route receivers. Isn't a dynamic quick-twitch athlete, but showcases good balance, can keep his feet under him and looks like a "plus" caliber starting cornerback in the NFL. Reminds me some of Chargers cornerback Quinton Jammer physically.
Stephon Gilmore CB, South Carolina: Is a "plus" sized corner with good quickness and fluidity. Needs to clean up his footwork in off/zone concepts, but has skill set to play near the line, check receivers and turn and run. Should be able to fight for a starting role during his rookie year in more of a zone scheme.
SECONDARY PRIORITY: S
Markelle Martin FS, Oklahoma State: A gifted athlete with a good burst and range in the deep half. However, wastes motion out of his breaks and isn't a very good open field tackler. Possesses slightly above-average instincts, but will make more plays on the football when he tightens up his footwork. A potential starter only at this stage because of his intriguing athleticism.
Mark Barron SS, Alabama: Has the makings of a heck of a special teams player who can also attack downhill vs. the run game, play inside the box and drive on the football in front of him in the pass game. Isn't going to be a major threat turning and tracking the football, but his improved instincts makes me think he can start in the league early on.
MID RANGE PRIORITY: DE, RB
Donte Paige-Moss DE, North Carolina: A talented kid who has the skill set, but never put it together as a sophomore and displays a questionable motor as a junior. If the light ever goes on he looks like a potential NFL starter. However, with the knee injury and concerns off the field isn't much more than a later round/free agent boom or bust guy.
Olivier Vernon DE, Miami: Had the makings of becoming a draftable prospect as a sophomore. However, wasted a year in 2011 and now despite having some natural talent, he's still raw and looks more like a talented late round/free agent with limited production.
Cyrus Gray RB, Texas A&M: An instinctive, well put together back with natural running skills inside. Isn't ever going to be a cowbell back at the next level and isn't overly dynamic in the open field. But can be productive in a two back system in the NFL.
Ronnie Hillman RB, San Diego State: Looks like a reserve only to me. Has some natural running qualities, but runs a bit upright and doesn't have a real explosive quality to his game.
Click here to see the NFP Big Board
Follow the NFP on Twitter: @FootballPost