April 14, 2012 -
National Football Post
Inside the NFL Draft: Bills team needs
Click here for our previous draft reports
The Bills made a splash during free agency when they landed Mario Williams--an immediate upgrade at the defensive end position in the 4-3 front. Moving ahead to the draft, Buffalo has options at No.10 and could tagrtet the OT position as well as look for talent at LB and WR. Here are the prospects we see that best fit the roster for the Bills.
BUFFALO BILLS
2011 RECORD: 6-10
FIRST ROUND POSITION: NO.10
TOP PRIORITY: OT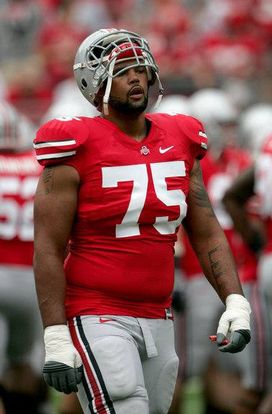 ICONOhio State OT Mike Adams.
Mike Adams OT, Ohio State: He's a talented kid with a big frame, long arms and natural movement skills. He can bend and if he can put it all together and continue to improve his footwork he could certainly mature into a starting caliber left tackle in the NFL.
Riley Reiff OT, Iowa: Showcases the ability to bend with good foot quickness and range in pass protection. Also displays an explosive element to his game as a run blocker. Needs to be more consistent with his footwork and would like to see him develop a bit more as a puncher in order to keep himself clean. Nevertheless, has the athleticism, flexibility and pedigree to mature into a solid starting left tackle in the NFL.
SECONDARY PRIORITY: LB
Courtney Upshaw OLB, Alabama: A LB that can play on the strong side, take on linemen at the point and also rush the passer. He's at his best attacking downhill, using his strong hands to disengage and always is around the football. Looks like a year one starter to me at the next level with scheme versatility.
Nick Perry OLB, Southern California: Exhibits the first step to be a threat off the edge, however struggles to drop his pad level when flattening out. Plus, he doesn't have much of a counter to his game at this point. Nevertheless, has some obvious talent and is a guy you would expect to start as a rush backer in a 34 scheme and be a productive threat off the edge.
MID RANGE PRIORITY: WR, DE
Michael Floyd WR, Notre Dame: Didn't seem quite as dynamic as a receiver when he bulked up in 2010. However, has looked sudden, explosive and showcased the ability to separate quickly and create after the catch as a senior. Is one of the draft's top receiving prospects.
Brian Quick WR, Appalachian State: Exhibits natural athleticism, coordination and some burst as a route runner. Has some upside to his game, but reminds me some of a Ramses Barden type prospect. A big guy who can adjust, but is never going to separate much out of his breaks in the NFL.
Jacquies Smith DE, Missouri: An intriguing looking DE prospect with some natural athleticism and closing speed, but he struggles out of his stance and does play as dynamic as his athletic skill set says he should. Looks more like an underachieving reserve at this stage.
Donte Paige-Moss DE, North Carolina: A talented kid who has the skill set, but never put it together as a sophomore and displays a questionable motor as a junior. If the light ever goes on he looks like a potential NFL starter. However, with the knee injury and concerns off the field isn't much more than a later round/free agent boom or bust guy.
Click here to see the NFP Big Board
Follow the NFP on Twitter: @FootballPost