April 17, 2012 -
National Football Post
Inside the NFL Draft: Broncos team needs
Click here to see our previous draft reports.
The Broncos were the talk of the NFL during free agency when they signed Peyton Manning and traded away last season's No.1 QB, Tim Tebow, to the Jets. Looking ahead to the draft, Denver has some needs in the secondary, along the D-Line and could target the RB position as well as a developmental QB. Here are the prospects we see as the best fit for the Broncos' roster.
DENVER BRONCOS
2011 RECORD: 8-8
FIRST ROUND DRAFT POSITION: NO.25
TOP PRIORITY: CB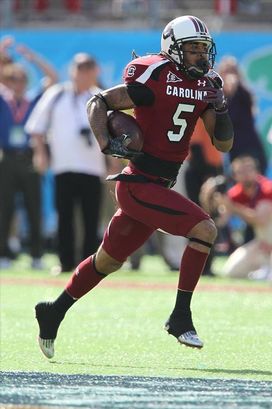 ICONSouth Carolina CB Stephon Gilmore.
Stephon Gilmore CB, South Carolina: Is a "plus" sized corner with good quickness and fluidity. Needs to clean up his footwork in off/zone concepts, but has skill set to play near the line, check receivers and turn and run. Should be able to fight for a starting role during his rookie year in more of a zone scheme.
Janoris Jenkins CB, North Alabama: If he can put it all together off the field, he's got the ability to develop into a very good cover man in the NFL and despite his size he's going to be a really tough guy to separate from in just about any scheme he plays in.
SECONDARY PRIORITY: DT
Tydreke Powell DT, North Carolina A naturally talented kid, just plays too high and doesn't play up to his skill set. Is worth a flyer in camp as a late round/free agent type upside prospect, but needs to learn to play lower.
Billy Winn DT, Boise State: Winn is a bit of a tweener who will get looks as a 43 DE, a 34 DE and a 43 one gapping DT. I think he's best suited to play 34 DE as he has the power to anchor on the edge and offers some pass rush ability as well. Either way, the guy looks like a starting caliber defensive lineman in any number of schemes.
MID RANGE PRIORITY: RB, QB
David Wilson RB, Virginia Tech: He's a compact kid who runs stronger/harder than you would expect from a guy his size. Has a dynamic quality to his game both inside and in the open field, and looks capable of maturing into a very good NFL running back early on in the NFL.
LaMichael James RB, Oregon: A quick footed, fluid scat back that doesn't break many tackles, but has the ability to make NFL defender miss and accelerate quickly toward daylight. Will be limited inside, but as a 3rd down/special teams type option I think he can be a better NFL runner than Falcons 5th round pick Jacquizz Rodgers because of his ability to make defenders miss consistently.
G.J. Kinne QB, Tulsa: Kinne has a little Jeff Garcia/Bruce Gradkowski to his game. He will fall on draft day because of his size, but is your typical gritty QB prospect that is the son of a coach and in my view will find a way to make a roster and potentially fight for playing time down the line.
Aaron Corp QB, Richmond: He has a nice sized frame and throws a pretty football. He's going to need some time, but is worth a draftable grade.
Click here to see the NFP Big Board
Follow the NFP on Twitter: @FootballPost