March 26, 2012 -
National Football Post
Inside the NFL Draft: Bucs team needs
Click here to read our previous team needs reports.
The Tampa Bay Buccaneers and new head coach Greg Schiano can look for upgrades on both sides of the ball. With needs at the CB position and the possibility of adding more depth (or taking the best player on the board) at the WR position after landing free agent Vincent Jackson, let's take a look at the prospects that in Tampa.
TAMPA BAY BUCCANEERS
2011 RECORD: 4-12
FIRST ROUND POSITION: NO.5
TOP PRIORITY: CB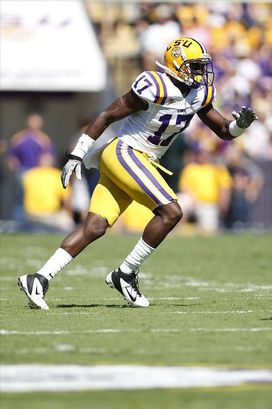 ICONLSU CB Morris Claiborne.
Morris Claiborne CB, Louisiana State: The top corner in this year's draft. He's tall and long which allows him to play big off the line. However, he showcases the footwork, balance and quick-twitch ability of a much smaller corner out of his breaks. With improved technique he should mature into one of the leagues best.
Dre Kirkpatrick CB, Alabama: Will be an ideal zone corner at the next level because of his size, instincts and physicality. However, he can also press off the line and consistently re-route receivers. Isn't a dynamic quick-twitch athlete, but showcases good balance, can keep his feet under him and looks like a "plus" caliber starting cornerback in the NFL. Reminds me some of Chargers cornerback Quinton Jammer physically.
SECONDARY PRIORITY: WR
Justin Blackmon WR, Oklahoma State: The lack of straight-line speed will limit him however, and when comparing him to first round receivers A.J. Green and Julio Jones last year, I don't think he's in their class. Nevertheless, he's got the skill set to line-up all over an NFL offense and make plays on all levels of the field.
Rueben Randle WR, Louisiana State: Possesses that sneaky strider speed down the field and has some savvy to his game. However, lacks great burst out of his breaks and isn't going to be effective running sharply breaking routes. Looks like a potential NFL starter only.
MID RANGE PRIORITY: RB, S
Tauren Poole RB, Tennessee: A thick, strong back who runs hard and displays natural one-cut ability. Runs a bit high and isn't overly fluid making defenders miss. But can break tackles, play on third down and looks like a solid contributing NFL back.
Marc Tyler RB, Southern California: A big back who possesses a good feel inside, can pick his way through tight quarters and finish runs. Isn't dynamic but is worth a later round pick and should be able to make a roster as a number three.
Charles Mitchell SS, Mississippi State: Wasn't real impressive vs. the pass game, but he's an instinctive tackler vs. the run and a passionate/leader type who could earn a spot on special teams. But I can't see him holding up in space vs. an NFL pass game.
Sean Richardson SS, Vanderbilt: Is always around the football, plays fast vs. the run game and will stick as a tackler. Isn't a guy who will hold up in space at the next level, but as a core special teams guy and thumper in some big nickel packages I think he has a chance to make a roster
Click here to see the NFP Big Board.
Follow the NFP on Twitter: @FootballPost