April 22, 2012 -
National Football Post
Inside the NFL Draft: Chargers team needs
Click here for our previous draft reports.
Looking at the Chargers heading into this week's NFL Draft, there are opportunities to upgrade the roster at the offensive tackle position and by adding a rush linebacker in the 3-4 front. Along with possibilities at safety and DE, here are the prospects we feel best fit the Chargers.
SAN DIEGO CHARGERS
2011 RECORD: 8-8
FIRST ROUND POSITION: NO. 18
TOP PRIORITY: OT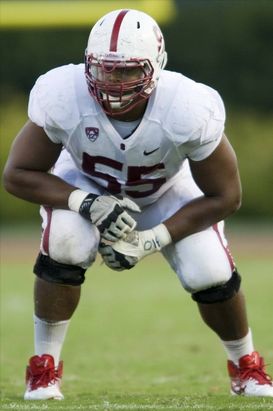 ICONStanford OT Jonathan Martin.
Jonathan Martin OT, Stanford: He's got the NFL size, length and overall athletic skill set. However, he's not a natural anchor player and doesn't strike me as a guy who is ever going to be real physical at the next level. He can mirror in space, but struggles to stick through contact and isn't real heavy handed. Looks like a finesse tackle who will get over drafted because of athletic talent, but is going to have a hard time keeping the edge clean at the next level.
Riley Reiff OT, Iowa: Showcases the ability to bend with good foot quickness and range in pass protection. Also displays an explosive element to his game as a run blocker. Needs to be more consistent with his footwork and would like to see him develop a bit more as a puncher in order to keep himself clean. Nevertheless, has the athleticism, flexibility and pedigree to mature into a solid starting left tackle in the NFL.
SECONDARY PRIORITY: OLB
Nick Perry OLB, Southern California: Exhibits the first step to be a threat off the edge, however struggles to drop his pad level when flattening out. Plus, he doesn't have much of a counter to his game at this point. Nevertheless, has some obvious talent and is a guy you would expect to start as a rush backer in a 34 scheme and be a productive threat off the edge.
Bruce Irvin OLB, West Virginia: A gifted athlete who has the initial burst to routinely reach the edge. However, lacks ideal size and doesn't have a real sophisticated pass rushing repertoire. Is going to make the move to a 34 OLB at the next level and might need a little time. Reminds me some of the Chris Clemons.
MID RANGE PRIORITY: S, DE
Brandon Taylor FS, LSU: He can tackle in the box and in space, despite being a bit inconsistent at times. Displays some natural coverage ability and looks capable of maturing into tweener starter/nickel safety at the next level.
George Iloka SS, Boise State: Iloka is a tall kid with solid balance for his size and has some natural athleticism and pop. Has experience playing corner and being a physical press coverage man. However, he isn't a guy who can quickly re-direct and close on the football in the deep half. He needs to play with his hands on defenders, but is a more coordinated bigger safety than say Seahawks starter Kam Chancellor and he could start at the next level.
Jack Crawford DE, Penn State: A big, strong defensive end prospect who still has some upside to his game. But won't be able to take that next step until he learns to play with a more consistent pad level. A size prospect worth developing long term.
Derek Wolfe DE, Cincinnati: A high motor, hard working kid who finds the football and uses his length to make plays. Doesn't have the anchor to play inside in a 43 front at the next level. However, as a two gap five-technique in a 34 he's got the skill set to fight for playing time in a rotation and create some negative plays vs. the run.
Click here to see the NFP Big Board
Follow the NFP on Twitter: @FootballPost