April 12, 2012 -
National Football Post
Inside the NFL Draft: Dolphins team needs
Click here to see our previous draft reports
The Dolphins and new head coach Joe Philbin need an upgrade at the QB position. Picking at No.8, Miami could target Texas A&M's Ryan Tannehill or look to address the OT position. With the possiblity of also adding some talent outside the numbers at WR, here is our list of prospects that best fit the Dolphins roster.
MIAMI DOLPHINS
2011 RECORD: 6-10
FIRST ROUND POSITION: NO.8
TOP PRIORITY: QB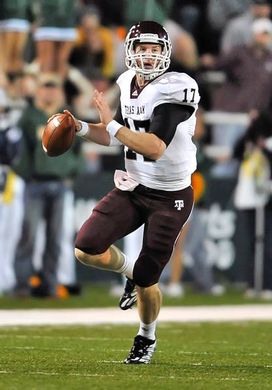 ICONTexas A&M QB Ryan Tannehill.
Ryan Tannehill: QB, Texas A&M: With such limited experience at the quarterback position it's not a case of where this guy is right now, but where he can be in 2/3 years. I love the talent and the overall production from a guy who doesn't have much experience playing from under center as he plays way beyond his years.
Brandon Weeden QB, Oklahoma State: His age will likely keep him from going as early in the draft as his talents deserve. But there isn't a throw this guy can't make and he has the skill set and mental make-up to mature into a potential starter with some time.
SECONADRY PRIORITY: OT
Matt Kalil OT, Southern California: There are some negatives concerning his overall anchor strength. However, you have a "plus" athlete at the position with good foot quickness, natural change of direction skills who knows how to bend. Might need a year to get stronger. But has the skill set to play in year one and develop into one of the leagues better offensive tackles as he matures physically.
Mike Adams OT, Ohio State: He's a talented kid with a big frame, long arms and natural movement skills. He can bend and if he can put it all together and continue to improve his footwork he could certainly mature into a starting caliber left tackle in the NFL.
MID RANGE PRIORITY: WR, DE
Nick Toon WR, Wisconsin: We like his size, short area quickness and ability to adjust to the football. Isn't a guy who is going to create consistently down the field, but knows how to gain enough separation, pluck and create after the catch. Looks like a guy who can play on the outside as a legit number two wide out running the inward breaking routes with some time, but isn't ever going to be a dynamic playmaker.
Brian Quick WR, Appalachian State: Exhibits natural athleticism, coordination and some burst as a route runner. Has some upside to his game, but reminds me some of a Ramses Barden type prospect. A big guy who can adjust, but is never going to separate much out of his breaks in the NFL.
Tyrone Crawford DE, Boise State: We like his skill set and think he's going to develop quickly at the next level and he has the ability to be a solid three down lineman with some time. He isn't there yet, but as a prospect Crawford has some real upside and displays the kind of blue-collar pass rushing mentality that I like with a powerful element to his game on contact.
Malik Jackson DE, Tennessee: A great looking athlete. Has some real work to do from a technique standpoint and is playing out of position at Tennessee. However, has a lot of upside as a DE both in a 43 and 34 front in the NFL and looks like a really intriguing developmental defensive lineman at this stage with a good bit up upside long term.
Click here to see the NFP Big Board
Follow the NFP on Twitter: @FootballPost