March 21, 2012 -
National Football Post
Inside the NFL Draft: Falcons team needs
Click here to see our previous team needs reports.
When looking at the Atlanta roster, the draft needs on the defensive side of the ball have to be addressed. The Falcons did resign DE John Abraham in free agency, but there is room to add some young talent along the D-Line and outside of the numbers at the CB position. Let's take a look at the prospects that fit in Atlanta.
ATALANTA FALCONS
2011 RECORD: 10-6
FIRST SELECTION: 2ND ROUND (NO.23)
Top Priority: CB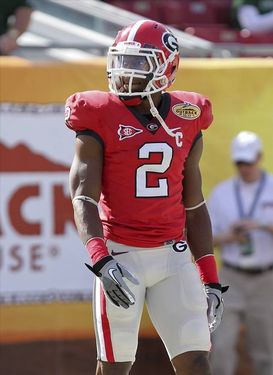 ICONGeorgia CB Brandon Boykin.
Brandon Boykin CB, Georgia: Plays much bigger/strong than his frame would indicate. Has the ability to press on the edge, but might be better suited to play as a slot guy in the NFL. Either way can play a role on a defense in either a man or zone scheme.
Chase Minnifield CB, Virginia: A talented corner who can bend, re-direct, maintain balance out of his breaks and make plays on the football. However, had a tough go as a senior giving up a lot of plays and having a tough time maintaining balance when trying to locate the ball vs. bigger receivers. A potential starter only.
Secondary Priority: DE
Cam Johnson DE, Virginia: A solid college defensive end who has never been much of a sack artist but there are some tools there. Showcases some fluidity in his drop and in coverage and has the ability to mature into a more sudden pass rusher. Will get looks in both a 34 and 43 front.
Andre Branch DE, Clemson: Has a lot of untapped talent. And is the kind of athlete you would expect to mature into a solid three down player in the NFL as a 43 DE.
Mid Range Priority: TE, C
Ladarius Green TE, UL Lafayette: He's a big slot guy who can make plays down the seam and can release off the line. However, he's not an in-line blocker and doesn't play well in tight areas vs. man. He has tools to be productive in the pass game, but there are limitations and you need to be creative to get the most out of him.
Kevin Koger TE, Michigan: Flashed on tape at times and does have some talent. However, is raw in all areas of the game and looks more like a low round pick/ free agent only who could blossom.
Quenton Saulsberry C, Mississippi State: A solid athlete who does some things well on the move and in pass protection. More of a zone lineman only, but needs to do a better job getting off the snap count on time in order to have a chance of getting drafted.
David Snow C, Texas:
Isn't an overly powerful in-line guy or elite athlete. But he can bend, is coordinated in both the run and pass game and does a great job shooting his hands inside and sticking to blocks. Looks like a guy who can make a roster and with some improved strength fight for playing time down the line.
Click here to see the NFP Big Board
Follow the NFP on Twitter: @FootballPost