February 27, 2012 -
National Football Post
Inside the NFL Draft: Giants team needs
The Super Bowl Champion Giants and head coach Tom Coughlin head into the offseason with some needs at the offensive tackle position and on the interior of the defensive line. With some mid-round needs at LB and also at the RB position, let's take a look at which prospects fit in New York.
NEW YORK GIANTS
2011 RECORD: 9-7
FIRST ROUND POSITION: NO. 32
TOP PRIORITY: OT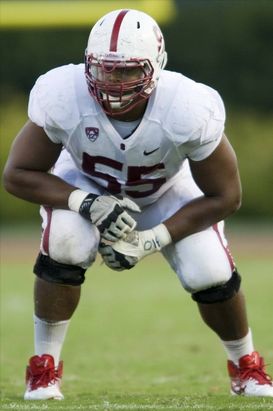 ICONStanford OT Jonathan Martin.
Jonathan Martin OT, Stanford: He's got the NFL size, length and overall athletic skill set. However, he's not a natural anchor player and doesn't strike me as a guy who is ever going to be real physical at the next level. He can mirror in space, but struggles to stick through contact and isn't real heavy handed. Looks like a finesse tackle who will get over drafted because of athletic talent, but is going to have a hard time keeping the edge clean at the next level.
Brandon Washington OL, Miami: The talent is there for this guy to mature into a guard you can win with consistently inside at the next level. He needs to improve his pad level in the in-line game and tighten up his footwork in all areas. However, with a year of seasoning he certainly should mature into an above-average guard in the NFL with the talent to start at right
SECONDARY PRIORITY: DT
Jerel Worthy DT, Michigan State: A talented kid with a thick frame, "plus" get off burst and snap awareness to his game. However, doesn't shed blocks well when engaged and lacks ideal anchor ability inside. Looks like a one-gap type lineman only who could give solid reps at both nose and three-technique in a 43 front. But is going to need some time before he's ready to start.
Dontari Poe DT, Memphis: Has a rare physical skill set due to his combination of flexibility, power and get off burst. However, he's still learning the nuances of the position. If he's willing to put in the time, Poe can mature into one of the leagues better interior presences. Nevertheless, because he's raw his floor isn't overly high either.
MID RANGE PRIORITY: LB, RB
Audie Cole OLB, North Carolina State: Played outside as a junior and will kick inside as a senior. Looks better suited to play as a 43 OLB to me who has the skill set to start and potentially play three downs for an NFL defense, but can't be forced to cover too much space down the field in his drop.
Terrell Manning OLB, North Carolina State: Is a gifted athlete with "plus" body control in coverage and can range off his frame vs. the run. However, isn't overly physical and more of a run and hit guy. Looks like a potential starter only in a 43 scheme. Can only play on the weak side and is going to need to make a mark on special teams early.
Brandon Bolden RB, Mississippi: A tough, productive SEC back who runs hard and can be effective when there are lanes to run through. Isn't going to create on his own in the NFL and isn't dynamic in any area of the game. Looks like a number three back at the next level.
Tauren Poole RB, Tennessee: A thick, strong back who runs hard and displays natural one-cut ability. Runs a bit high and isn't overly fluid making defenders miss. But can break tackles, play on third down and looks like a solid contributing NFL back.
Click here to see the NFP Big Board
Follow the NFP on Twitter: @FootballPost