April 23, 2012 -
National Football Post
Inside the NFL Draft: Jaguars team needs
Click here for our previous draft reports
Holding the 7th overall pick in the first round Thursday night, the Jags have multiple options to target a WR such as Notre Dame's Michael Floyd or address the D-Line. Here is a look at the team needs in Jacksonville along with the prospects we see as the best fit.
JACKSONVILLE JAGUARS
2011 RECORD: 5-11
FIRST ROUND POSITION: NO. 7
TOP PRIORITY: WR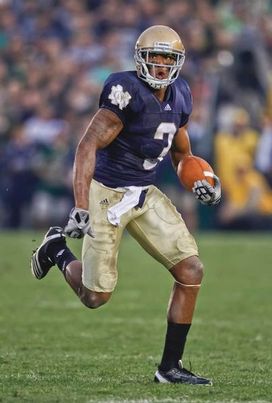 ICONNotre Dame WR Michael Floyd.
Michael Floyd WR, Notre Dame: Didn't seem quite as dynamic as a receiver when he bulked up in 2010. However, has looked sudden, explosive and showcased the ability to separate quickly and create after the catch as a senior. Is one of the draft's top receiving prospects.
Rueben Randle WR, Louisiana State: Possesses that sneaky strider speed down the field and has some savvy to his game. However, lacks great burst out of his breaks and isn't going to be effective running sharply breaking routes. Looks like a potential NFL starter only.
SECONDARY PRIORITY: DE
Quinton Coples DE, North Carolina: Can be as good as he wants to be in the NFL. The game comes very easy to him and he can be dominant if he learns to use his arms even better to slip blocks in the pass game, but with more time I expect that to improve. The sky is the limit as long as he's willing to work at his trade and keep his motor running.
Melvin Ingram DE, South Carolina: He is an impressive pass rusher who can get after the QB in a number of ways. Ingram is raw with his technique and can get better, but his suddenness, length and natural feel for the game makes me think he's one of the draft best senior pass rushers.
MID RANGE PRIORITY: CB, OT
Coryell Judie CB, Texas A&M: He's a naturally gifted athlete with good range and great ball skills. Displays enough fluidity and balance to develop as a man-to-man corner, but looks ideally suited for a cover two type role at this stage that allows him to attack the football and create turnovers. An eventual starter in that type of scheme.
Jeremy Lane CB, Northwestern State: Has the size and talent to get drafted. Needs to get a bit stronger and clean up his footwork, but has the skill set to play both inside and out in the NFL.
Jarvis Jones OT, Oklahoma: Doesn't have a ton of experience, is raw and doesn't bend well enough to create leverage in the run game. Has a big frame with some growth potential, but is too much of a project at this time to warrant a pick.
Tom Compton OT, South Dakota: Possesses an NFL caliber frame and some bend and athleticism, but looks tighter hipped. Has a long way to go with his technique, but the snap he generates off the ball in the run game is intriguing as a potential right tackle.
Click here to see the NFP Big Board
Follow the NFP on Twitter: @FootballPost