March 08, 2012 -
National Football Post
Inside the NFL Draft: Lions team needs
The Detroit Lions made a run to the post season in 2011, but they still have some holes to fill in the defensive secondary. With some upgrades also needed along the O-Line, let's take a look at the prospects that fit Jim Schwart'z club in the NFL Draft.
DETROIT LIONS
2011 RECORD: 10-6
FIRST ROUND DRAFT POSITION: NO. 23
TOP PRIORIY: CB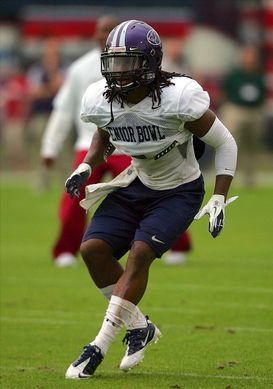 ICONNorth Alabama's Janoris Jenkins.
Janoris Jenkins CB, North Alabama: If he can put it all together off the field, he's got the ability to develop into a very good cover man in the NFL. And despite his size, he's going to be a really tough guy to separate from in just about any scheme he plays in.
Brandon Boykin CB, Georgia: Plays much bigger/strong than his frame would indicate. Has the ability to press on the edge, but might be better suited to play as a slot guy in the NFL. Either way can play a role on a defense in either a man or zone scheme.
SECONDARY PRIOIRTY: OT
Mike Adams OT, Ohio State: He's a talented kid with a big frame, long arms and natural movement skills. He can bend and if he can put it all together and continue to improve his footwork he could certainly mature into a starting caliber left tackle in the NFL.
Jonathan Martin OT, Stanford: He's got the NFL size, length and overall athletic skill set. However, he's not a natural anchor player and doesn't strike me as a guy who is ever going to be real physical at the next level. He can mirror in space, but struggles to stick through contact and isn't real heavy handed. Looks like a finesse tackle who will get over drafted because of athletic talent, but is going to have a hard time keeping the edge clean at the next level.
MID RANGE PRIOIRTY DE, RB
Chandler Jones DE, Syracuse: We love size and length. But we also worry about defensive lineman who play upright, lack a great get off burst and struggle to change directions. I don't see him as a big time pass rusher. But if he improves his pad level he could mature into a potential starting option.
Jack Crawford DE, Penn State: A big, strong defensive end prospect that still has some upside to his game. But won't be able to take that next step until he learns to play with a more consistent pad level. A size prospect worth developing long term.
Bryce Brown RB, Kansas State: Watching him run in Lane Kiffin's zone scheme as a freshman, the guy was an impressive back with a lot of natural talent. He was the number one ranked recruit out of high school, ahead of Trent Richardson in 2009 and no doubt has the skill set to play in the league. The biggest question mark for him going forward is his overall character.
Bobby Rainey RB, Western Kentucky: I think he could get some looks as a situational type back that can be used in space effectively at times. However, despite his production, I think at best he's a later round pick who is going to have a find a niche early on where he can make plays and be dynamic if he hopes to stick on an NFL roster. My guess would be either as a return guy, a situational guy in the pass game or even on kick coverage.
Click here to see the NFP Big Board
Follow the NFP on Twitter: @FootballPost