March 07, 2012 -
National Football Post
Inside the NFL Draft: Packers team needs
The Green Bay Packers finished the season with a 15-1 record, but there are some obvious needs on the defensive side of the ball. With possible upgrades along the D-Line and at the LB position, let's take a look at some options for GM Ted Thompson as the Packers prep for the upcoming NFL draft.
GREEN BAY PACKERS
2011 RECORD: 15-1
FIRST ROUND DRAFT POSITION: NO. 28
TOP PRIORIRTY: DE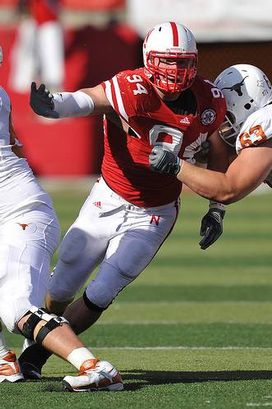 Nebraska's Jared Crick.
Jared Crick DE, Nebraska: Isn't a guy who can hold up vs. the run inside in the NFL and isn't a dynamic pass rusher either. However, as a five-technique DE I can see him finding a home with some versatility on 3rd down.
Fletcher Cox DE, Mississippi State: I think his best spot might be as a 34 five technique who is able to penetrate and make plays off the ball. He's raw and needs to learn to play with his pad level lower. However, as a potential five technique he's a guy who has the skill set to earn a starting role.
SECONDARY PRIORITY: LB
Ronnell Lewis OLB, Oklahoma: Possesses an impressive physical/athletic skill set, a "plus" motor and a real passion for the game. I don't think he's ever going to be a top end pass rusher in the NFL. However, as a 6-8 sack guy long term who can help out on special teams and give you all he has play in and play out, I think he warrants a second round type grade.
Shea McClellin OLB, Boise State: McClellin is a productive pass rusher with a big motor; good skill set and can get after the QB in a number of ways. Looks like a potential starter at the next level.
MID RANGE PRIORITY: RB, QB
Dan Herron RB, Ohio State: Isn't dynamic really in any athletic and/or physical aspect. However, he runs with a strong base, has impressive short area quickness and a natural feel between the tackles. Can certainly contribute early in his NFL career in a rotation and will create for himself if he has to.
Terrance Ganaway RB, Baylor: Possesses good size, some natural lean and power. Exhibits the footwork to pick his way through tighter creases inside, but runs through some big leans and isn't overly shifty in the open field. A reserve power guy at best, but doesn't play up to his size/strength numbers consistently.

Aaron Corp QB, Richmond: He has a nice sized frame and throws a pretty football. He's going to need some time, but is worth a draftable grade.
Chandler Harnish QB, Northern Illinois: A gritty quarterback prospect that is accurate and can move the chains with his legs. A typical overachieving MAC QB who has been told all his life he's not good enough, but has enough to mature and develop into a reserve at the next level.
Click here to see the NFP Big Board
Follow the NFP on Twitter: @FootballPost