March 24, 2012 -
National Football Post
Inside the NFL Draft: Panthers team needs
Click here to see our previous team needs reports
The Carolina Panthers made some strides in the 2011 season under first-year head coach Ron Rivera and rookie QB Cam Newton. However, heading into the NFL Draft, there are some holes to fill along the D-Line and the possibility of adding more talent at the WR position. Let's take a look at the prospects that fit in Carolina.
CAROLINA PANTHERS
2011 RECORD: 6-10
FIRST ROUND POSITION: NO.9
TOP PRIORITY: DT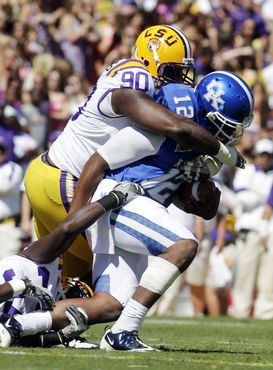 LSU DT Michael Brockers.
Michael Brockers DT, Louisiana State: He might be a little raw and could have used some more work at the college level. However, he's an NFL talent with "plus" upside but can also come in and play vs. the run at a high level right away. Should get looks at both the three and five-technique spots and in my mind has the ability to become one of the better defensive lineman in the NFL down the line.
Dontari Poe DT, Memphis: Has a rare physical skill set due to his combination of flexibility, power and get off burst. However, he's still learning the nuances of the position. If he's willing to put in the time, Poe can mature into one of the leagues better interior presences. Nevertheless, because he's raw his floor isn't overly high either.
SECONDARY PRIOIRTY: WR
Justin Blackmon WR, Oklahoma State: The lack of straight-line speed will limit him however, and when comparing him to first round receivers A.J. Green and Julio Jones last year, I don't think he's in their class. Nevertheless, he's got the skill set to line-up all over an NFL offense and make plays on all levels of the field.
Rueben Randle WR, Louisiana State: Possesses that sneaky strider speed down the field and has some savvy to his game. However, lacks great burst out of his breaks and isn't going to be effective running sharply breaking routes. Looks like a potential NFL starter only.
MID RANGE PRIORITY: DE, OT
Jake Bequette DE, Arkansas: Not a special athlete, more of a savvy power player, but works hard rushing the pocket, has a great motor and can play the run. A rotational guy early on who has the ability to earn a starting role, but looks more like a rotational guy.
Julian Miller DE, West Virginia: Is a good looking kid with some NFL quality athletic traits, but needs to learn to play lower as most of the plays he makes come after his initial surge.
James Brown OT, Troy: Has an intriguing skill set and the frame to get bigger. His body type says offensive tackle in the NFL to me and not guard. But he needs to physically get a bit bigger to play either spot. Looks like a higher upside/developmental guy who could be worth a mid round pick and if he's willing to put in the time could mature into a possible starter.
Tom Compton OT, South Dakota: Possesses an NFL caliber frame and some bend and athleticism, but looks tighter hipped. Has a long way to go with his technique, but the snap he generates off the ball in the run game is intriguing as a potential right tackle.
Click here to see the NFP Big Board
Follow the NFP on Twitter: @FootballPost