April 11, 2012 -
National Football Post
Inside the NFL Draft: Patriots team needs
Click here for our previous draft reports.
The New England Patriots added some talent and depth at the WR position via free agency that should lead to an improved offensive game plan in 2012. However, the Pats still have needs on the defensive side of the ball and can look to upgrade to the secondary and pass rush in the upcoming draft. Here are the prospects we see as a fit for the New England roster.
NEW ENGLAND PATRIOTS
2011 RECORD: 13-3
FIRST ROUND POSITON: NO.27, NO. 31
TOP PRIOIRTY: CB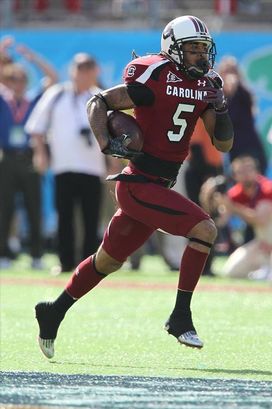 ICONSouth Carolina CB Stephon Gilmore.
Stephon Gilmore CB, South Carolina: Is a "plus" sized corner with good quickness and fluidity. Needs to clean up his footwork in off/zone concepts, but has skill set to play near the line, check receivers and turn and run. Should be able to fight for a starting role during his rookie year in more of a zone scheme.
Brandon Boykin CB, Georgia: Plays much bigger/strong than his frame would indicate. Has the ability to press on the edge, but might be better suited to play as a slot guy in the NFL. Either way can play a role on a defense in either a man or zone scheme.
SECONDARY PRIORITY: DE/OLB
Andre Branch DE, Clemson: Has a lot of untapped talent. And is the kind of athlete you would expect to mature into a solid three down player in the NFL as a 43 DE.
Cam Johnson DE, Virginia: A solid college defensive end who has never been much of a sack artist but there are some tools there. Showcases some fluidity in his drop and in coverage and has the ability to mature into a more sudden pass rusher. Will get looks in both a 34 and 43 front.
MID RANGE PRIORITY: WR, SS
Mohamed Sanu WR, Rutgers: Physically reminds me some of Hakeem Nicks. Isn't as NFL ready, but can go get the football, breakdown and separate on all levels of the field. Looks like a future NFL starter who might need some time, but the talent is most definitely there.
Marvin Jones: WR, Cal: Possesses good size, good body control and hand eye coordination, and for his size is a pretty fluid athlete as well. Isn't a dynamic athlete, but should be able to find a way to make and earn playing time on an NFL roster.
Kelcie McCray SS, Arkansas State: He does have some natural coverage ability for his size and should run well for the position. There are some questions about desire as a tackler and instincts in the deep half. However, a guy at his size with his athleticism at worst deserves a shot late.
Jerico Nelson SS, Arkansas: A tough, rangy kid who holds up well in coverage and I love him as a football player. But where do you play him in the NFL? Body type says strong safety. Looks like a nickel backer to me who can play special teams from day one.
Click here to see the NFP Big Board
Follow the NFP on Twitter: @FootballPost