April 18, 2012 -
National Football Post
Inside the NFL Draft: Raiders team needs
Click here to see our previous draft reports.
With only five draft picks (and the club's first pick coming at No.95 overall) new Raiders GM Reggie McKenzie will have to go deep in this year's class to find some impact talent. Looking at the Raiders roster, we see some needs on the defensive side of the ball and the option of adding some depth at the RB position. Here are the prospects that best fit in Oakland.
OAKLAND RAIDERS
2011 RECORD: 8-8
FIRST SELECTION: NO.95 OVERALL (3RD ROUND)
TOP PRIORITY: DT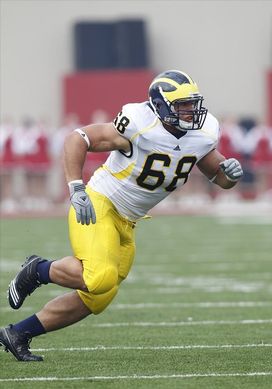 ICONMichigan DT Mike Martin.
Mike Martin DT, Michigan: The kind of prospect you don't want to bet against. Is limited and doesn't have the kind of frame to get all that bigger, but I can see him working his way into a rotation as a 43 nose in the NFL and being the kind of guy coaches love.
: A naturally strong kid with a great attitude and work rate. Needs to improve pad level, but has the kind of natural power and work ethic to make it with some time.
SECONDARY PRIORITY: CB
Coryell Judie CB, Texas A&M: He's a naturally gifted athlete with good range and great ball skills. Displays enough fluidity and balance to develop as a man-to-man corner, but looks ideally suited for a cover two type role at this stage that allows him to attack the football and create turnovers. An eventual starter in that type of scheme.
Shaun Prater CB, Iowa: Is still developing his feel in zone and needs to add more weight. However, he's smooth, fluid and coordinated in his drop and out of his breaks. Has a chance to start in the NFL, more of a zone corner though.
MID RANGE PRIORITY: OT, RB
Levy Adcock OT, Oklahoma State: Needs to clean up his footwork in pass protection, but he's coordinated, can bend and should improve with time. Looks like a guy who is ideally suited to play right tackle, but I could see him being effective as a guard. At best a low-end starter who looks more like a reserve to me.
Tom Compton OT, South Dakota: Possesses an NFL caliber frame and some bend and athleticism, but looks tighter hipped. Has a long way to go with his technique, but the snap he generates off the ball in the run game is intriguing as a potential right tackle.
Terrance Ganaway RB, Baylor: Possesses good size, some natural lean and power. Exhibits the footwork to pick his way through tighter creases inside, but runs through some big leans and isn't overly shifty in the open field. A reserve power guy at best, but doesn't play up to his size/strength numbers consistently.
Dan Herron RB, Ohio State: Isn't dynamic really in any athletic and/or physical aspect. However, he runs with a strong base, has impressive short area quickness and a natural feel between the tackles. Can certainly contribute early in his NFL career in a rotation and will create for himself if he has to.
Click here to see the NFP Big Board
Follow the NFP on Twitter: @FootballPost