April 09, 2012 -
National Football Post
Inside the NFL Draft: Rams team needs
Click here for our previous draft reports
The Rams find themselves picking sixth in the first round after the trade with the Redskins. And with upgrades needed at the WR position and along the offensive line, here are the prospects we see that fit the roster in St. Louis.
ST. LOUIS RAMS
2011 RECORD: 2-14
FIRST ROUND POSITION: NO.6
TOP PRIORITY: WR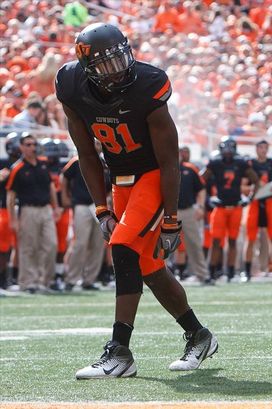 ICONOklahoma State WR Justin Blackmon.
Justin Blackmon WR, Oklahoma State: When comparing him to first round receivers A.J. Green and Julio Jones last year, I don't think he's in their class. Nevertheless, he's got the skill set to line-up all over an NFL offense and make plays on all levels of the field.
Mohamed Sanu WR, Rutgers: Physically reminds me some of Hakeem Nicks. Isn't as NFL ready, but can go get the football, breakdown and separate on all levels of the field. Looks like a future NFL starter who might need some time, but the talent is most definitely there.
SECONDARY PRIORITY: OT
Matt Kalil OT, Southern California: There are some negatives concerning his overall anchor strength. However, you have a "plus" athlete at the position with good foot quickness, natural change of direction skills who knows how to bend. Might need a year to get stronger. But has the skill set to play in year one and develop into one of the leagues better offensive tackles as he matures physically.
Mitchell Schwartz OT, California: Displays solid athletic ability, but looks better suited to play on the right side in the NFL vs. less speed. A nice 2nd/3rd round type draft pick who could eventually fight for starting time.
MID RANGE PRIORITY: CB, DT
Josh Norman CB, Coastal Carolina: Talent says he's a top-60 pick, but there are some character concerns that could cause him to fall. Either way he has the talent to quickly match-up with NFL receiver at the next level.
Omar Bolden CB, Arizona State: The skill set is there for this guy to be a starter in the NFL. Needs to play a little stronger and has to clean up his footwork in order to stick, but gives you some versatility to play inside and out on a defense.
Akiem Hicks DT, University of Regina: Has the size, power, first step and length to be an NFL lineman. Needs to work at his trade, but is an ideal mid/late round boom or bust type guy.
Damon Harrison DT, William Penn: The kind of physically put together kid who can develop as a nose in either a 34 o4 43 front. In a weaker senior class at DT I would rather roll the dice on this higher upside kid than most of the average senior later guys at bigger schools.
Click here to see the NFP Big Board
Follow the NFP on Twitter: @FootballPost