April 16, 2012 -
National Football Post
Inside the NFL Draft: Ravens team needs
Click here to see our previous draft reports
The Ravens can look to the defensive side of the ball early in the upcoming draft. With age now becoming a concern at the safety position and the need for more pass rushers in their defensive front, Baltimore will have some options at the end of the first round. Here are the prospects we feel best fit the Ravens' roster.
BALTIMORE RAVENS
2011 RECORD: 12-4
FIRST ROUND DRAFT POSITION: NO. 29
TOP PRIORITY: OLB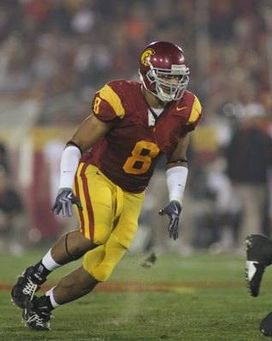 ICONUSC LB Nick Perry.
Nick Perry OLB, Southern California: Exhibits the first step to be a threat off the edge, however struggles to drop his pad level when flattening out. Plus, he doesn't have much of a counter to his game at this point. Nevertheless, has some obvious talent and is a guy you would expect to start as a rush backer in a 34 scheme and be a productive threat off the edge.
Shea McClellin OLB, Boise State: McClellin is a productive pass rusher with a big motor; good skill set and can get after the QB in a number of ways. Looks like a potential starter at the next level.
SECONDARY PRIORITY: S
Harrison Smith SS, Notre Dame: Isn't a guy you want to trust to run with receivers down the field. However, because of his solid natural range and instincts, I can see him getting over the top and making plays in a center field type role as an NFL strong safety.
Markelle Martin FS, Oklahoma State: A gifted athlete with a good burst and range in the deep half. However, wastes motion out of his breaks and isn't a very good open field tackler. Possesses slightly above-average instincts, but will make more plays on the football when he tightens up his footwork. A potential starter only at this stage because of his intriguing athleticism.
MID RANGE PRIORITY: WR, OT
Joe Adams WR, Arkansas: An explosive athlete who can go get the football down the field and has some savvy to his game setting up routes. However, is inconsistent catching the football and as a route runner. Nevertheless, does enough well to make a roster and see early playing time inside and outside. An ideal fit for Philadelphia running the deep crossers.
Rueben Randle WR, Louisiana State: Possesses that sneaky strider speed down the field and has some savvy to his game. However, lacks great burst out of his breaks and isn't going to be effective running sharply breaking routes. Looks like a potential NFL starter only.
Matt McCants OT, Alabama-Birmingham: McCants possesses a great looking frame that has the ability to get bigger and mature physically. Athletically, all the tools are there for this kid to play left tackle in the NFL, he just needs some time to make the jump in competition and mature physically.
James Brown OT, Troy: Has an intriguing skill set and the frame to get bigger. His body type says offensive tackle in the NFL to me and not guard. But he needs to physically get a bit bigger to play either spot. Looks like a higher upside/developmental guy who could be worth a mid round pick and if he's willing to put in the time could mature into a possible starter.
Click here to see the NFP Big Board
Follow the NFP on Twitter: @FootballPost