April 06, 2012 -
National Football Post
Inside the NFL Draft: Seahawks team needs
Click here to see our previous draft reports
The Seahawks and coach Pete Carroll made some keys moves in free agency re-signing RB Marshawn Lynch and adding QB Matt Flynn. And heading into the draft, we see the DE position as the top priority in Seattle. Here are the prospects that fit on Carroll's roster.
SEATTLE SEAHAWKS
2011 RECORD: 7-9
FIRST ROUND POSITION: NO.12
TOP PRIORITY: DE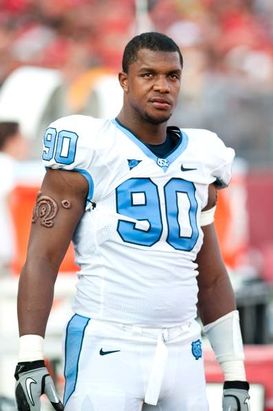 ICONNorth Carolina DE Quinton Coples.
Quinton Coples DE, North Carolina: Can be as good as he wants to be in the NFL. The game comes very easy to him and he can be dominant if he learns to use his arms even better to slip blocks in the pass game, but with more time I expect that to improve. The sky is the limit as long as he's willing to work at his trade and keep his motor running.
Whitney Mercilus DE, Illinois: Physically he looks the part and has the skill to simply man handle college lineman at times. However, he's a raw kid who is stiff in the hips and doesn't have a great feel for the game when asked to find the football. He's got some upside, but his tightness and overall lack of natural feel for the game are two very big concerns that will keep him from being the type of pass rusher his freaky skill set says he could.
SECONDARY PRIORITY: QB
Ryan Tannehill QB, Texas A&M: With such limited experience at the quarterback position it's not a case of where this guy is right now, but where he can be in 2/3 years. I love the talent and the overall production from a guy who doesn't have much experience playing from under center as he plays way beyond his years. A potential franchise quarterback in my mind.
Kirk Cousins QB, Michigan State: A solid athlete who isn't overly impressive physically, but he has enough to make it in the NFL. Needs to take that next step in his understanding of the offense this year and cut down on the mental errors. However, he's a good kid, a hard worker and has some real similar qualities to some of the senior quarterbacks who came off the board this year (Ponder/Dalton). Nevertheless, his struggles with pressure could hold him back from ever becoming an NFL starter.
MID RANGE PRIORITY: LB, RB
Keenan Robinson OLB, Texas: An explosive kid with some natural burst to his game. Isn't overly instinctive and doesn't take on blocks overly well, but is a good fit in more of a run and hit scheme because he possesses very good natural range. A potential starter in the NFL.
Josh Kaddu OLB, Oregon: Displays a good athletic skill set, runs well and possesses some natural power to his game. But is a better athlete than football player at this stage. Looks like the kind of guy who will need to make his mark on special teams.
Brandon Bolden RB, Mississippi: A tough, productive SEC back who runs hard and can be effective when there are lanes to run through. Isn't going to create on his own in the NFL and isn't dynamic in any area of the game. Looks like a number three back at the next level.
Darrell Scott RB, South Florida: I like his size and open field speed. But he doesn't have much wiggle, lacks ideal feel and it takes him a bit of time to reach top end speed as I don't see a real burst to his game. A late round option.
Click here to see the NFP Big Board.
Follow the NFP on Twitter: @FootballPost