April 15, 2012 -
National Football Post
Inside the NFL Draft: Steelers team needs
Click here to see our previous team needs reports.
The Steelers head into the NFL Draft with some needs along the offensive line. Picking at No.24 in the first round, Pittsburgh could have some options at the OT position or on the interior of the O-Line. Here are the prospects that we see best fit the Steelers' roster.
PITTSBURGH STEELERS
2011 RECORD: 12-4
FIRST ROUND POSITION: NO. 24
TOP PRIORITY: OT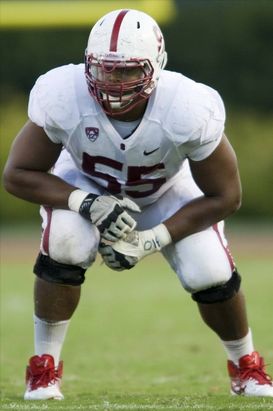 ICONStanford OT Jonathan Martin.
Jonathan Martin OT, Stanford: He's got the NFL size, length and overall athletic skill set. However, he's not a natural anchor player and doesn't strike me as a guy who is ever going to be real physical at the next level. He can mirror in space, but struggles to stick through contact and isn't real heavy handed. Looks like a finesse tackle who will get over drafted because of athletic talent, but is going to have a hard time keeping the edge clean at the next level.
Mike Adams OT, Ohio State: He's a talented kid with a big frame, long arms and natural movement skills. He can bend and if he can put it all together and continue to improve his footwork he could certainly mature into a starting caliber left tackle in the NFL.
SECONDARY PRIORITY: OG
Brandon Brooks OG, Miami (Ohio): Is a big, strong kid who has some lateral quickness for his size but needs some technique work. Nevertheless, has some upside and can win consistently in the run game and pass game and looks like an NFL starter in an angle scheme to me.
Tony Bergstrom OG, Utah: A big, strong tackle prospect with some short area quickness for his size. But struggles with flexibility in pass protection and looks limited in what he can offer an NFL offense. However, looks more coordinated and plays lower as a guard and looks like that is where his future lies in the NFL.
MID RANGE PRIORITY: DT, CB
Hebron Fangupo DT, BYU: A naturally strong kid with a great attitude and work rate. Needs to improve pad level, but has the kind of natural power and work ethic to make it with some time.
Damon Harrison DT, William Penn: The kind of physically put together kid who can develop as a nose in either a 34 o4 43 front. In a weaker senior class at DT I would rather roll the dice on this higher upside kid than most of the average senior later guys at bigger schools.
Justin Bethal CB, Presbyterian: Had a solid week at the East-West Shrine game and has the upside to warrant a pick to develop as an NFL defensive back.
Jeremy Lane CB, Northwestern State: Has the size and talent to get drafted. Needs to get a bit stronger and clean up his footwork, but has the skill set to play both inside and out in the NFL.
Click here to see the NFP Big Board
Follow the NFP on Twitter: @FootballPost