April 25, 2012 -
National Football Post
Inside the NFL Draft: Texans team needs
Click here to see our previous draft reports
Looking at the roster in Houston, the Texans can fill a need opposite top WR Andre Johnson in the first round with prospects such as Kendall Wright (Baylor) or Stephen Hill (Georgia Tech). With second round options at OLB and some mid round grades at CB and OG, here are the prospects we see as the best fit in Houston.
HOUSTON TEXANS
2011 RECORD: 10-6
FIRST ROUND POSITION: NO.26
TOP PRIORITY: WR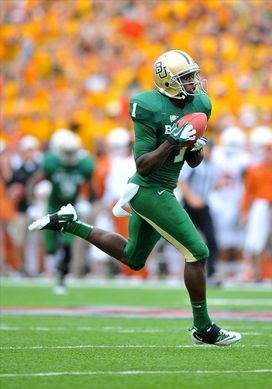 ICONBaylor WR Kendall Wright.
Kendall Wright WR, Baylor: In the same mold as a number of Pittsburgh Steelers receivers (Mike Wallace, Emmanuel Sanders) and can be effective both inside and out making plays down the field at the next level.
Stephen Hill WR, Georgia Tech: Has a unique skill set, can pluck off his frame, track the football and is the next big time talent from the Georgia Tech program. Is going to need some time to develop, but can come in and track football vertically early on. Has a lot of upside to his game and skill set says he's an NFL starter.
SECONDARY PRIORITY: OLB
Bruce Irvin OLB, West Virginia: A gifted athlete who has the initial burst to routinely reach the edge. However, lacks ideal size and doesn't have a real sophisticated pass rushing repertoire. Is going to make the move to a 34 OLB at the next level and might need a little time. Reminds me some of the Chris Clemons.
Shea McClellin OLB, Boise State: McClellin is a productive pass rusher with a big motor, good skill set and can get after the QB in a number of ways. Looks like a potential starter at the next level.
MID RANGE PRIORITY: CB, OG
Jayron Hosley CB, Virginia Tech: An undersized zone corner who lacks ideal size and doesn't run overly well. Exhibits "plus" ball skills and a natural feel in zone, but is raw with his footwork in man coverage and looks more like a cover two guy only who might be best suited to play inside.
Micah Pellerin CB, Hampton: He's a tall, talented kid who has some rough spots to his game, but has the talent to fight for a starting job.
Kelvin Beachum OG, Southern Methodist: Possesses the size/power to win as an in-line guy and the athleticism to pull in power situations and get out into the second level as well. He's a coordinated pass protector on the edge and has the skill set to make the move to guard at the next level.
Desmond Wynn OG, Rutgers: A big, coordinated guard prospect that holds up well in the pass game and can seal inside vs. the run. If he checks out medically has a shot a fighting for a roster spot.
Click here to see the NFP Big Board
Follow the NFP on Twitter: @FootballPost