April 23, 2012 -
National Football Post
Inside the NFL Draft: Titans team needs
Click here for our previous draft reports
The Titans have some flexibility heading into the first round of the NFL Draft. With possible targets along the interior of the offensive line and in the secondary, here are the prospects we feel best fit the roster in Tennessee.
TENNESSEE TITANS
2011 RECORD: 9-7
FIRST ROUND POSITION: NO. 20
TOP PRIORITY: OG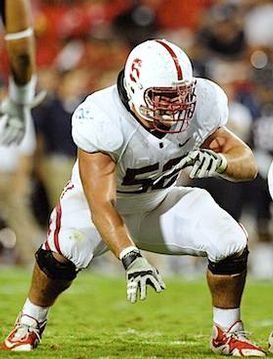 ICONStanford OG David DeCastro.
David DeCastro OG, Stanford: The best offensive line prospect I've evaluated since Maurkice Pouncey in 2010. He showcases the ability to get a push in-line and is a dominant move player as well. He's fluid/natural in pass protection and with a little more power in his base he's got the skill set to become on of the leagues best guards early in his NFL career.
Cordy Glenn OG, Georgia: Had some struggles in space as a tackle prospect, but in tighter areas where he can get his hands on linemen quickly as a guard he showcases the ability to dominate. Looks like a starting caliber OG early in his NFL career.
SECONDARY PRIORITY: CB
Brandon Boykin CB, Georgia: Plays much bigger/strong than his frame would indicate. Has the ability to press on the edge, but might be better suited to play as a slot guy in the NFL. Either way can play a role on a defense in either a man or zone scheme. ?
Janoris Jenkins CB, North Alabama: If he can put it all together off the field, he's got the ability to develop into a very good cover man in the NFL and despite his size he's going to be a really tough guy to separate from in just about any scheme he plays in.
MID RANGE PRIORITY: DE, WR
Frank Alexander DE, Oklahoma: Isn't a great athlete, but is improving his pad level and uses his length to fend off blocks. Should at least give himself a chance of working his way into a rotation because of his size.
Scott Solomon DE, Rice: better overall prospect in my mind than former Rice DL Cheta Ozougwu, who ended up being selected in the 7th round. He's a big kid who has some pass rush ability and the size to play the run. At worst looks like a guy who can come into camp and work his way into an NFL rotation.
Jarrett Boykin WR, Virginia Tech: Isn't real explosive off the line but plays quick down the field, can get off press, separate and go get the football. Also, he will be able to make plays both inside and out at the next level and should be able to earn playing time at both spots in the NFL early in his NFL career.
Marvin Jones WR, Cal: Possesses good size, good body control and hand eye coordination, and for his size is a pretty fluid athlete as well. Isn't a dynamic athlete, but should be able to find a way to make and earn playing time on an NFL roster.
Click here to see the NFP Big Board
Follow the NFP on Twitter: @FootballPost