March 19, 2012 -
National Football Post
Inside the NFL Draft: Vikings team needs
Click here to view our previous NFL team needs reports.
The Minnesota Vikings and head coach Leslie Frazier have some needs to fill at the offensive tackle position and outside the numbers at wide receiver. With the No.3 pick in the first round of the NFL Draft, the Vikings will have options. Let's take a look at the prospects that fit the roster in Minnesota.
MINNESOTA VIKINGS
2011 RECORD: 3-13
FIRST ROUND DRAFT POSITION: NO. 3
TOP PRIOIRTY: OT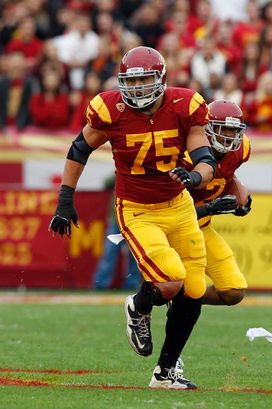 ICONUSC OT Matt Kalil.
Matt Kalil OT, Southern California: There are some negatives concerning his overall anchor strength. However, you have a "plus" athlete at the position with good foot quickness, natural change of direction skills who knows how to bend. Might need a year to get stronger. But has the skill set to play in year one and develop into one of the leagues better offensive tackles as he matures physically.
Riley Reiff OT, Iowa: Showcases the ability to bend with good foot quickness and range in pass protection. Also displays an explosive element to his game as a run blocker. Needs to be more consistent with his footwork and would like to see him develop a bit more as a puncher in order to keep himself clean. Nevertheless, has the athleticism, flexibility and pedigree to mature into a solid starting left tackle in the NFL.
SECODNARY PRIORITY: WR
Justin Blackmon WR, Oklahoma State: The lack of straight-line speed will limit him and when comparing him to first round receivers A.J. Green and Julio Jones last year, I don't think he's in their class. Nevertheless, he's got the skill set to line-up all over an NFL offense and make plays on all levels of the field.
Rueben Randle WR, Louisiana State: Possesses that sneaky strider speed down the field and has some savvy to his game. However, lacks great burst out of his breaks and isn't going to be effective running sharply breaking routes. Looks like a potential NFL starter only.
MID RANGE PRIOIRTY: S, CB
Janzen Jackson FS, McNeese State: A talented kid who can run, track the football and can be a violent striker on contact. However, isn't the most sound of wrap-up guys, is raw with his footwork and has character concerns. Nevertheless, has the talent to play in the NFL and should get a shot because of his ability to run and strike.
Trenton Robinson FS, Michigan State: Is coordinated and can keep his feet under him, but looks tighter when asked to turn and run. Tackles well and looks like at best a low-end starter who needs to play in tighter areas to be effective in coverage.
Robert Golden CB, Arizona: Might be limited to more of a cover two/click and close type corner, but he does have some developing press coverage skills. Also, has a lot of value as a safety, as he can anticipate in the deep half, drive on throws under him and play over a receiver in nickel situations.
Mike Harris CB, Florida State: Looks like a physical slot guy to me who can play in both man and zone concepts, and will tackle the football.
Click here to see the NFP Big Board.
Follow the NFP on Twitter: @FootballPost