August 01, 2011 -
Brad Biggs
Is a big contract coming for Matt Forte?
With the dust slowly settling from a wild week in which the Chicago Bears signed 48 players and didn't sign one – veteran center Olin Kreutz – the club is soon expected to turn its attention to a contract extension for running back Matt Forte.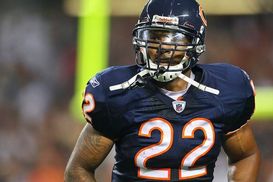 ICONForte has been the Bears' top offensive weapon over the last few years.
The only consistent performer on offense over the last three seasons, Forte is entering the final year of his rookie contract and is slated to earn $555,000 in 2011. He's eyeing a huge pay day and will no doubt use the $43 million, five-year deal DeAngelo Williams received as a benchmark.
The problem is, the Bears will counter that Williams was an unrestricted free agent and it's a different ballgame when talking to a player under contract. That's where the rub lies.
"Things are starting to settle down," general manager Jerry Angelo said. "Once (contract negotiator) Cliff (Stein) gets the numbers back in order again … I told Matt personally, certainly talked to his agent (that the Bears will work on the matter).
"When we talked these past weeks, I told him now our intent is to do (an extension). That's a strong word. When I say intent, then we're motivated to do something. The timetable is yet to be determined. Just be patient. Take care of your job as you already have and continue to do and then we're going to do our part. But again it's a negotiation. Got to find that common ground. That part of it will be a challenge. You're not talking about a UFA. There's an open market there, you bid. These extensions are much tougher because agents normally look at the UFA market to set their comps. But he's not a UFA. That's the challenge. We've had a pretty good track record. Cliff's the best. I trust Matt's agent (Adisa Bakari). We've dealt with him. He's a very good agent. So I feel optimistic. But again, we'll just let that itself out."
So, barring a total breakdown, the Bears could have something in place for Forte in the near future.
Follow me on Twitter: @BradBiggs
Brad Biggs covers the Bears for the Chicago Tribune